United Kingdom • 2023-07-06
Go-Ahead London adds nearly 300 electric buses from BYD–Alexander Dennis partnership in 2023
Hounslow and Larbert, United Kingdom – 6th July 2023: BYD UK and Alexander Dennis, a subsidiary of leading independent global bus manufacturer NFI Group Inc., jointly announced today that their electric vehicle partnership has taken a repeat order from Go-Ahead London for a further 141 battery-electric buses, taking the total to be delivered to the operator during 2023 to 299 vehicles.
This new order follows Go-Ahead London's success in winning contracts for bus routes tendered by Transport for London that have been awarded with new electric buses as part of the city's transition to a zero-emission bus fleet by 2034.

In total, 169 BYD–Alexander Dennis Enviro400EV double deckers and 130 BYD–Alexander Dennis Enviro200EV single deckers are expected to be supplied by the end of 2023, with deliveries already under way. All the double deckers will be 10.8m long, while the single deckers will be built to three different lengths of 9.6m, 10.2m and 10.9m to suit different route profiles and passenger volumes.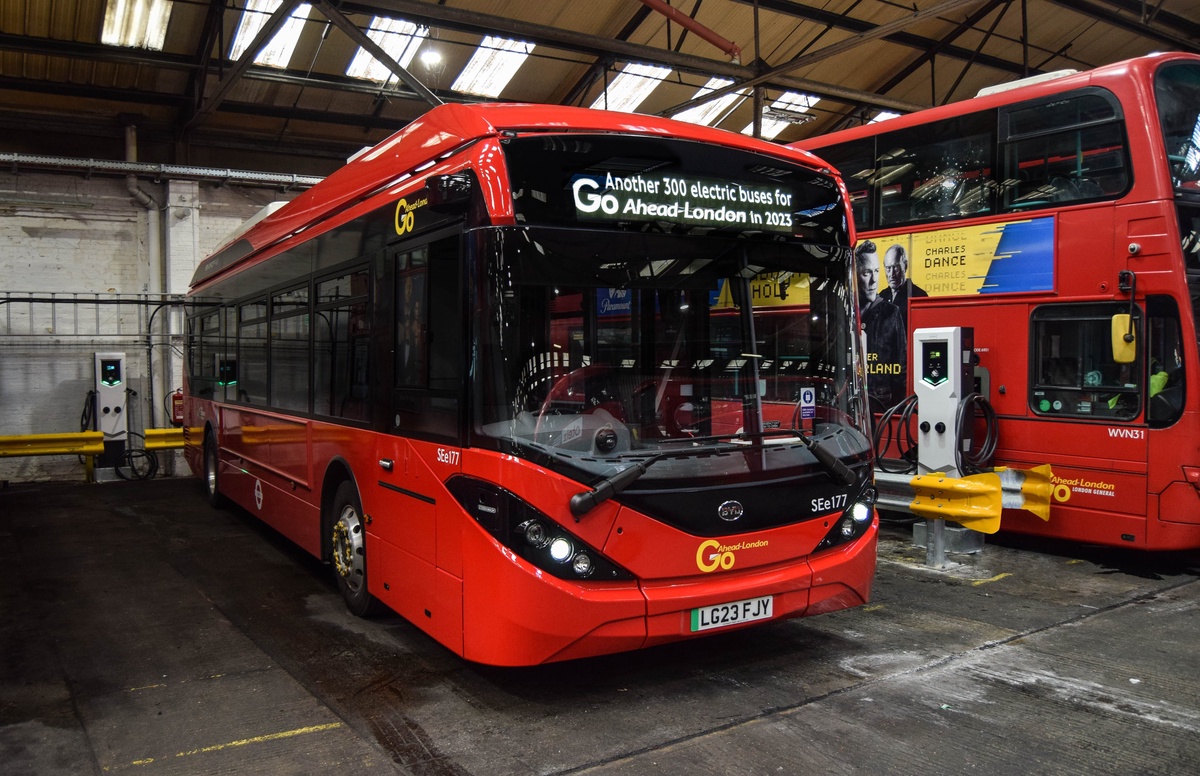 All the electric buses on order will benefit from the collective expertise of BYD and Alexander Dennis. The buses combine BYD's world-leading Iron-Phosphate Battery technology and innovation in highly integrated electric powertrains developed for safety, efficiency and reliability, with the renowned expertise of Alexander Dennis for quality bodywork and assembly.
They will take the total number of BYD–Alexander Dennis electric buses in the Go-Ahead London fleet to 577, confirming the company as the largest operator of the partnership's clean buses.
More than two thirds of all zero-emission buses currently in service or on order for Transport for London routes have been supplied by the BYD–Alexander Dennis partnership.
Go-Ahead London Engineering Director, Richard Harrington, said: "As the capital's largest, and most experienced electric bus company, we are in the process of introducing around 300 zero-emission vehicles this year. This pace of innovation would not be possible without dependable industry partners like BYD and Alexander Dennis, who are building these new buses to our exacting specification. This now includes an eye-catching new interior with high-backed seats and additional amenities, which is proving very popular with the travelling public."
BYD UK Managing Director, Frank Thorpe, said: "We are very pleased to support Go-Ahead London once again with another significant electric bus order, as it continues to expand its zero-emission fleets. It underlines how effectively BYD–Alexander Dennis buses are providing an efficient and reliable solution for operators seeking to introduce more eco-friendly bus services. BYD is dedicated to developing innovative and effective EV technology for a more sustainable future and to see how operators, such as Go-Ahead, are embracing 'electric' is making the 'green dream' come alive."
Alexander Dennis President & Managing Director, Paul Davies, said: "We're delighted that the largest single operator of electric buses in the UK has again chosen the BYD–Alexander Dennis partnership. This takes the number of our zero-emission buses in the Go-Ahead London fleet to well over 500, representing a stunning vote of confidence in these reliable, cost-effective buses. We look forward to continuing to develop our relationship with Go-Ahead London and supporting the further electrification of its fleet."