Hungary • 2023-06-14
BYD Celebrates Introduction of Electric Buses in Zalaegerszeg, Hungary
BYD, the world's leading manufacturer of new energy vehicles (NEVs), announces the deployment of eleven 12-metre BYD eBuses in Zalaegerszeg, Hungary. The installation of BYD ebuses not only represents a transformation in public transportation but also demonstrates Zalaegerszeg's steadfast commitment to advancing sustainability and enhancing local mobility. By reducing emissions and embracing cutting-edge technology, both BYD and the city of Zalaegerszeg are driving towards a greener and more efficient future for public transportation.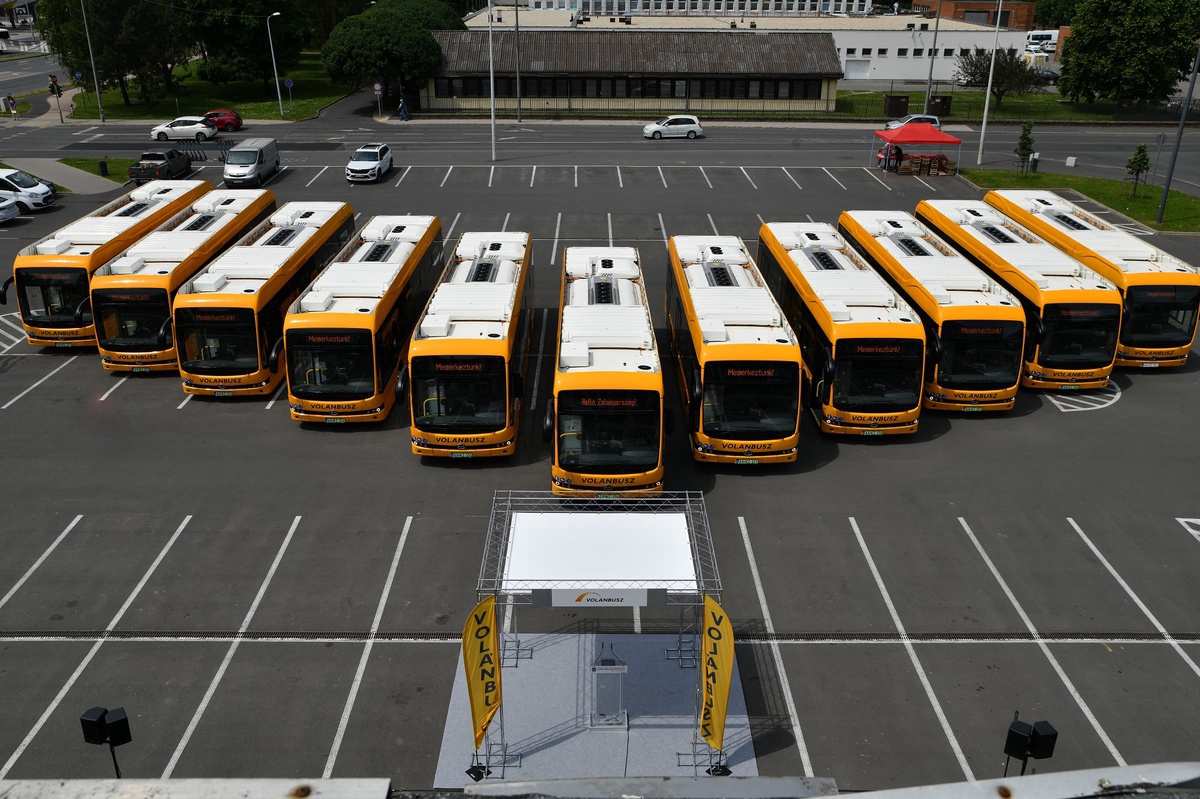 Eleven 12-metre BYD eBuses in Zalaegerszeg, Hungary
The procurement and charging installation project, valued at HUF 2.1 billion, is completed in collaboration with Volánbusz, one of Hungary's largest public transport operators and the HUMDA (Hungarian Motorsport Development Agency) Green Bus Program. These state-of-the-art BYD electric buses will provide comfortable and environmentally friendly travel options for over 55,000 residents starting in June.
The introduction of these electric buses will replace 11 original vehicles, and will be operational on almost all bus lines in Zalaegerszeg thanks to the charging infrastructure provided by Mobility Volánbusz Kft.
BYD stays committed to promoting sustainable practices and delivering emission-free vehicles. The inclusion of Zalaegerszeg in the electric bus network further reinforces BYD's mission to provide innovative and eco-friendly solutions for public transportation.
These BYD electric buses in Zalaegerszeg are equipped with a range of modern features to enhance passenger comfort and safety, including air conditioning, wheelchair accessibility, electronic passenger information systems, and onboard cameras. The buses have an efficient charging system, requiring only 2-2.5 hours per day to be fully recharged. With a single charge, these ebuses can cover up to 300 kilometers, subject to variations in road and weather conditions.
Mr. Javier Contijoch, eBus Sales President at BYD Europe, said: "This is a significant event not only for Zalaegerszeg, HUMDA, and Volánbusz but also for BYD, as the city will be added to the list of communities that can gain knowledge about and use electromobility and our company's market-leading electric bus in everyday traffic. BYD is a pioneer in electric public transport and has the longest experience operating e-buses. I am confident that our buses will continue to deliver high quality and sustainable solutions much to the satisfaction of the citizens of Zalaegerszeg."
BYD takes pride in its role in promoting the sustainable development of Zalaegerszeg and Hungary. The successful deployment of BYD ebuses serves as a significant step towards the city's vision of establishing a greener and more efficient public transport system. BYD will continue to drive the adoption of electric vehicles, supporting the transition to a cleaner and more sustainable future.