Spain • 2023-06-05
BYD Showcases eBus Innovations at UITP 2023
BYD introduces two new eBus innovations to delegates attending the UITP (Union Internationale des Transports Publics, i.e. the International Association of Public Transport ) Global Public Transport Summit 2023
The all-new spacious BYD eBus B19 with all-round efficiencies and longer range will be on display at Hall 7, Stand 7G 100
Also being showcased is the first customised BYD-Castrosua 12-metre eBus equipped with Nelec body, which is jointly produced by BYD and the Spanish bus bodybuilding specialist, Castrosua
Both models benefit from BYD's world-leading expertise in power batteries and electric chassis technology developed for safety, efficiency, and passenger's comfort
Barcelona, Spain - BYD, the world's leading manufacturer of New Energy Vehicles (NEVs), attends the UITP Global Public Transport Summit in Barcelona from the 5th to 7th June 2023.
In Hall 7 (Stand 7G 100) BYD displays two innovative eBus models, taking sustainable and zero-emission public bus transportation to a new level. On show are the all-new BYD eBus B19 (18.75-metre) and the first-ever customised BYD-Castrosua 12-metre eBus, equipped with BYD advanced pure-electric chassis and Castrosua Nelec (New Electric Castrosua) body, following a joint manufacturing announced last autumn 2022.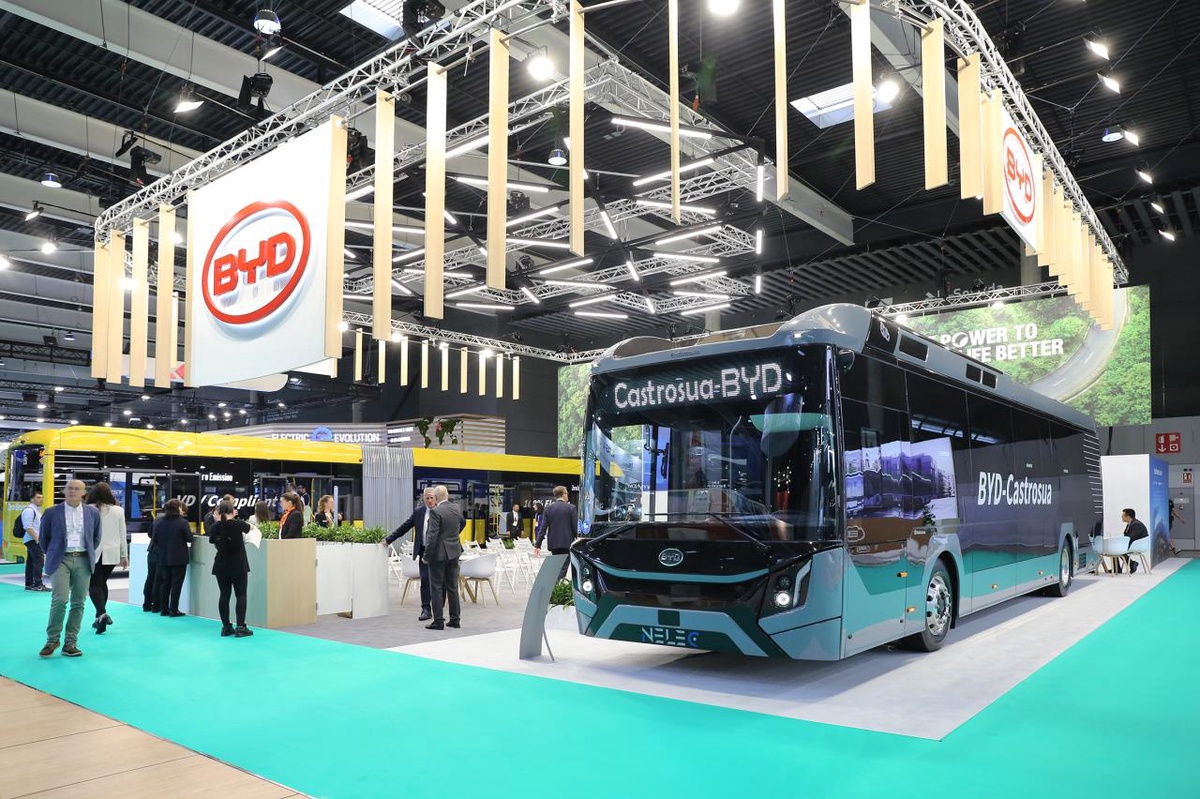 BYD showcases new eBuses at UITP 2023
New BYD eBus Innovations Spotlighted at UITP 2023
The latest BYD eBus B19 is the epitome of BYD innovation for eMobility. It utilises the latest BYD LFP Battery Technology and 6-in-1 controller for greater safety, stability, and efficiency, with a larger battery capacity (563kWh) providing convenience as a result of a longer range. It is built on BYD's pure-electric chassis with high levels of integration for optimum performance. This includes a highly effective thermal management system developed by BYD for enhanced energy efficiency. Such deep integration, together with a range of intelligent systems, assists in ease of operation and maintenance. This, along with faster charging and increased passenger capacity, makes the BYD eBus B19 a practical option for many transport operators. The passenger experience is also enhanced, with a fresh new interior and upgrades to make the journey even more comfortable.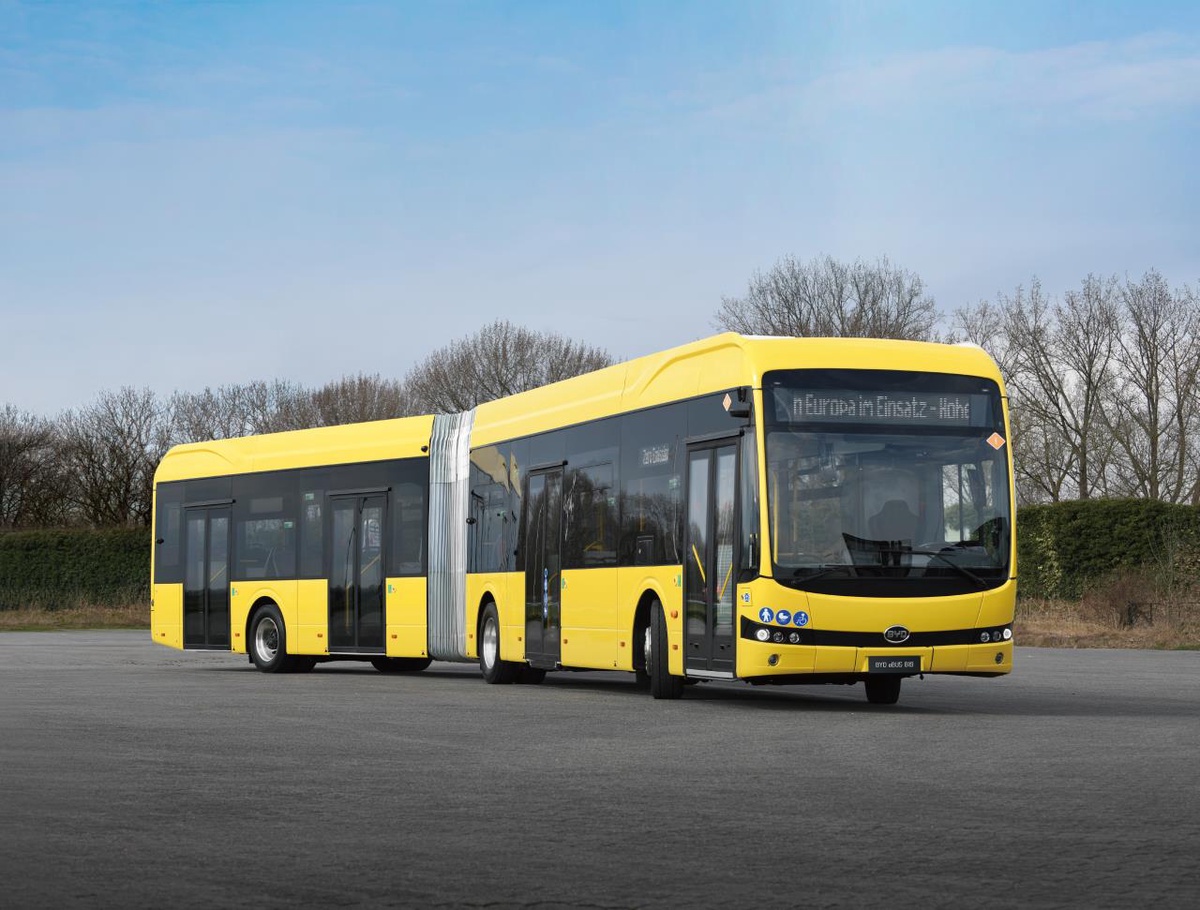 The latest BYD eBus B19
Partnering with the BYD eBus B19 on the BYD stand is the first customised BYD-Castrosua 12-metre eBus making its exhibition debut at UITP Summit 2023. BYD and Castrosua announced their collaboration in September 2022 to produce customised 12-metre eBuses, in a partnership that brings together key areas of expertise from both organisations. Combining BYD's world-leading battery and electric chassis technology, together with Castrosua's highly adaptable Nelec body, the venture offers customers high levels of interior and exterior customisation, and the opportunity for exclusive designs, with an extensive range of options.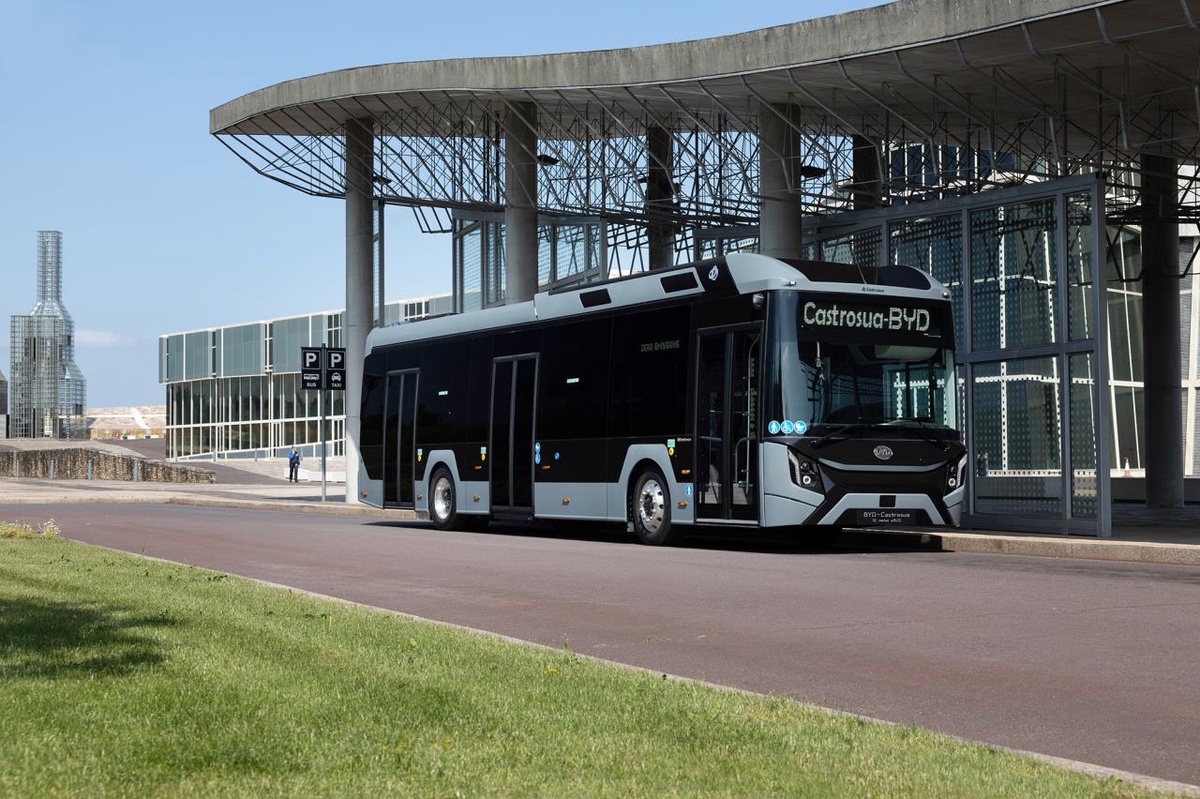 The first customised BYD-Castrosua 12-metre eBus in Spain
BYD – World-Leading Advanced Technology for Safe and Efficient E-Mobility Solutions
BYD, the world's leading NEVs manufacturer, is the first provider of 100% emissions-free transport solutions in Europe, and is also the only NEV producer to master the core technologies of the entire industrial chain, developing its own powertrain systems, power batteries, drive-motors, and motor controller system.
Notably, BYD was the first company in the world to introduce a fleet of commercial electric buses in 2011 and has since evolved to become a global leader in this field. With more than 28 years of experience in battery research and development, BYD remains dedicated to technological innovation to support the mass roll-out of eco-friendly public transport around the world, facilitating electric buses fast become the mainstream in many European countries and cities. There are 4,200 BYD eBuses either in operation or on order in Europe, covering 2.35 hundred million kilometres, which is equivalent to reducing 250,000 tonnes of CO2 emissions.
BYD sold more than 1.86 million NEVs around the world in 2022, becoming the best-selling NEV brand globally. BYD has built up an extensive global footprint in the new energy sector that covers more than 70 countries and regions and over 400 cities, delivering more than 4.3 million new energy vehicles globally as of May 2023.
BYD's Evolving Strategic Partnerships in Europe
BYD is committed to working collaboratively with key partners in Europe to efficiently support customers across all regions and continues to pursue new strategic partnerships.
Mr. Javier Contijoch, eBus Sales President at BYD Europe, said: "We are delighted to introduce some of our latest eBus innovations to delegates attending UITP Summit 2023. Our collaboration with Castrosua is especially exciting and underlines our commitment to bringing high-quality customised products that are well-suited to individual markets. Our partnership offers customers greater flexibility in eBus specification to make the move to zero-emission buses even more appealing, with the reassurance of BYD's advanced chassis technology and the versatility of Castrosua Nelec body. BYD strongly believes in strategic localised collaborations and continues to expand relationships with key partners to deliver high levels of regional sales and service support, and tailor-made solutions for local customers."