Poland • 2023-06-04
BYD Signs Dealership Agreement with Inter Cars S.A. to Supply eTrucks and Provide Service in Poland
BYD and Inter Cars S.A. announce the partnership at the EV Experience, bringing sustainable commercial transportation solutions to Poland
Armatus Sp. z o.o, a subsidiary of Inter Cars S.A., becomes a national dealer for BYD eTrucks in Poland
The partnership combines BYD's world-leading pure-electric technology with Inter Cars S.A.'s extensive experience in automotive-related distribution
Armatus will provide regional sales and service support to customers via a dealer network at various locations in Poland
Warsaw, Poland—BYD, the world's leading manufacturer of New Energy Vehicles (NEVs), announces its partnership with Inter Cars S.A. (hereinafter called Inter Cars), the largest automotive parts distributor in Central and Eastern Europe, to accelerate the adoption of sustainable pure-electric mobility solutions for commercial transportation in Poland.
The partnership between BYD and Inter Cars was officially established last week during the prestigious EV Experience, the largest electromobility show in Poland. Under the agreement, Armatus Sp. z o.o. (hereinafter called Armatus), a subsidiary of Inter Cars, has become the national dealer of BYD electric trucks and vans in Poland. BYD's eTruck dealer network will expand to include five locations across the country by the end of this year, all dedicated to vehicle sales and service.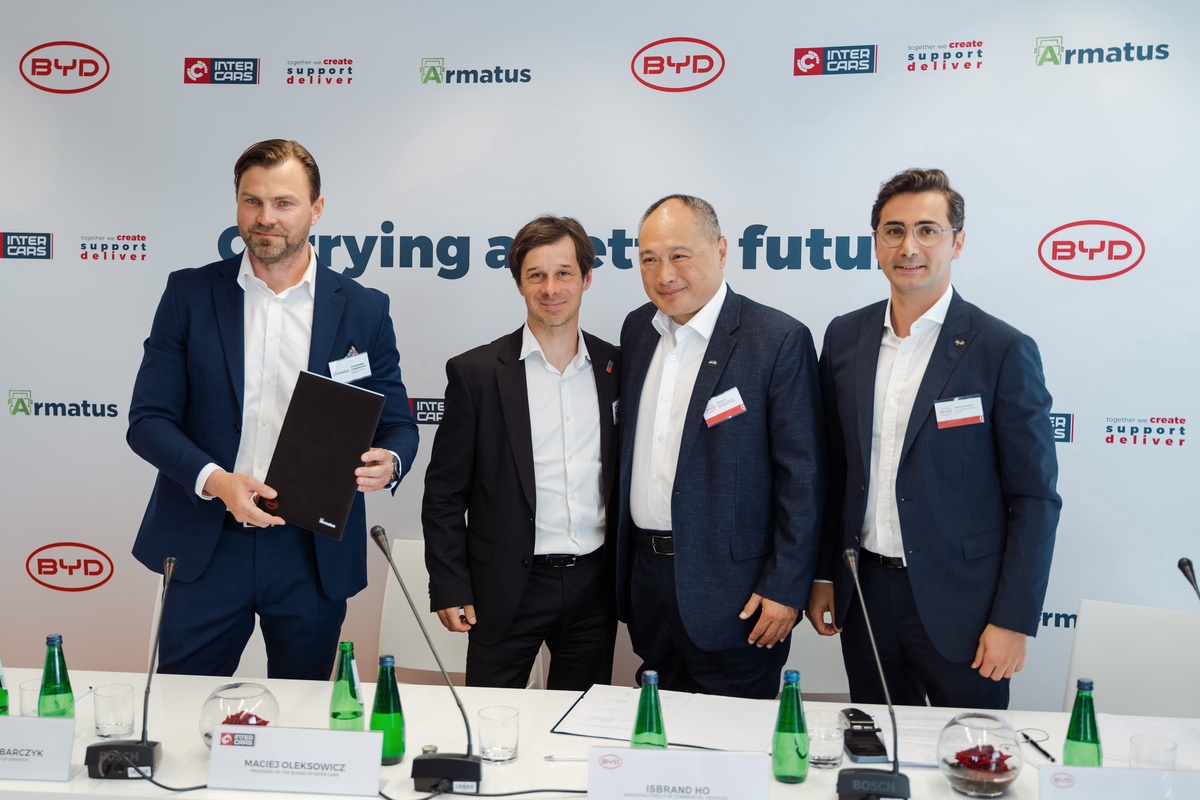 BYD and Inter Cars S.A. Cooperation Signing Ceremony
The BYD models available in Poland will include the ETP3 panel van designed for last mile delivery, the ETM6 cargo truck ideal for inner city distribution, and the ETH8 distribution truck. All BYD pure-electric vehicles provide long driving range capabilities, low noise pollution for urban and night-time operation, and with zero-emissions, are a positive step forward in providing a cleaner, healthier environment.
Mahmut Mobassit, eTruck Sales Director Europe, BYD Europe, said: "With a long heritage in advanced battery technology and an unwavering dedication to producing market-leading sustainable solutions, BYD has consistently been at the forefront of eco-friendly innovations in transportation. We believe in a future of e-mobility, and it gives us great pleasure to welcome Inter Cars and its subsidiary Armatus as strategic partners for the distribution of our zero-emission electric trucks in Poland. Their extensive experience in automotive-related distribution, combined with BYD's technology and products, is the foundation for a strong partnership, reinforced by a mutual desire to promote sustainable mobility in Poland. As the fourth largest truck sales market in Europe, there are exciting opportunities for BYD's zero-emission electric trucks, and together we can provide efficient localised sales and service support to Polish customers. With our cutting-edge technology and Inter Cars' extensive distribution network, we are confident that our electric trucks will transform the transportation sector in Poland, contributing to a greener and more sustainable future."
Sławomir Rybarczyk, CEO of Armatus said: "The decision to start cooperation with BYD, the world's leading manufacturer of electric vehicles, stems out from our long-term strategy. It assumes socially responsible and sustainable development, targeting both the evolving needs of our customers while caring for the environment. On the business side, we focus on gaining from the market advantages we have built up. As a European leader in the distribution of spare parts for commercial vehicles, we have created an effective business model which, based on our core values of a well-developed chain of Q-Service Truck garages, efficient logistics and an extensive portfolio of commercial vehicle customers, gives us the ability to quickly bring a new vehicle make to the market, providing for such key issues as a service network. The demand for electric vehicles will increase by leaps and bounds, and our answer to this are BYD's reliable and innovative commercial vehicles."
BYD, in partnership with Inter Cars and Armatus, is confident in spearheading the transformation towards sustainable mobility in Poland. Together, they are committed to driving the electric revolution, creating a greener future for the country and beyond.