Spain • 2023-05-30
BYD and Castrosua Launch the First Jointly-Manufactured eBus
An Official Ceremony was held to launch the first jointly-manufactured BYD-Castrosua eBus in Santiago de Compostela on 29th May 2023
Its unveiling marks an exciting new era of zero-emission customised eBuses in the 12-metre category for Spanish bus operators
The pure-electric buses combine BYD's advanced electric chassis technology with Castrosua's exceptional expertise in bus bodybuilding to provide Spanish customers with highly desirable, eco-friendly tailor-made solutions
Madrid/Santiago de Compostela, Spain – BYD, the world's leading manufacturer of New Energy Vehicles, in partnership with Castrosua, the renowned bus bodybuilding specialists, launched the first jointly produced eBus at an Official Presentation Ceremony on 29th May in Spain. Its debut marks the start of an exciting new era of zero-emission customised eBuses in the 12-metre category for Spanish bus operators, combining BYD's expertise in electric bus chassis technology with Castrosua's highly-acclaimed bus bodies.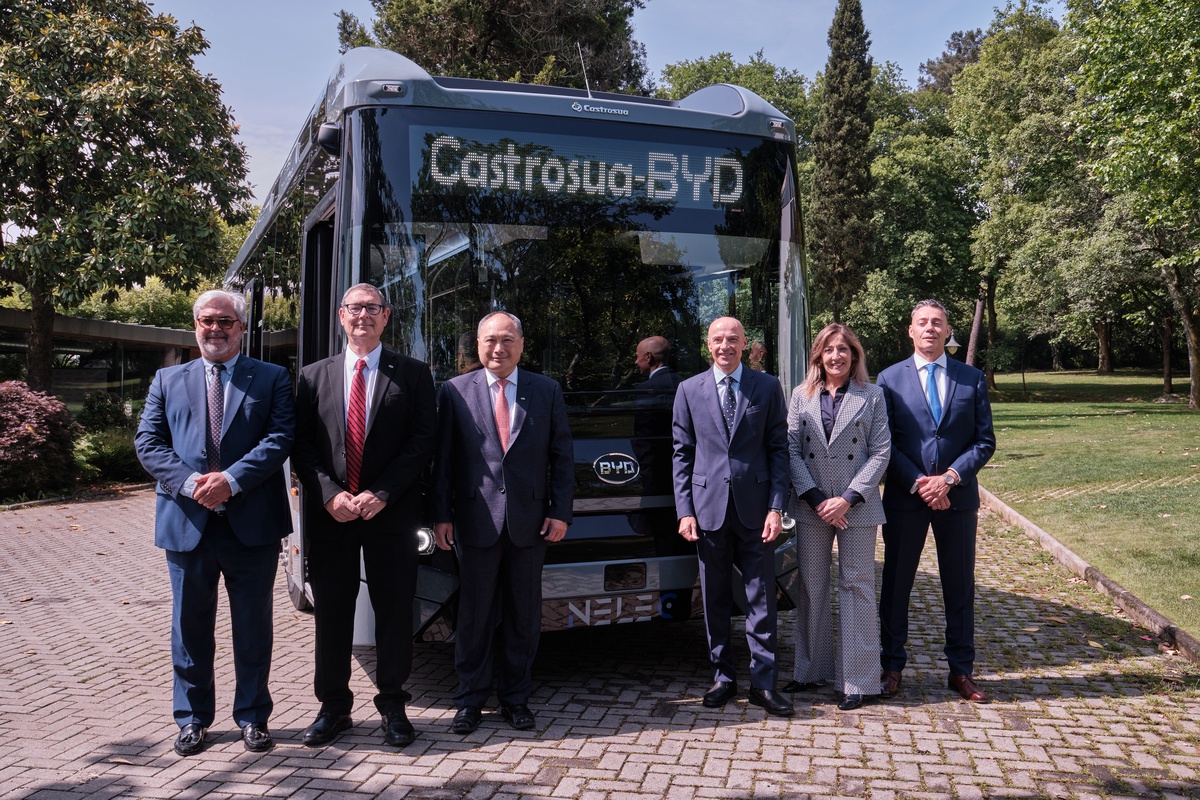 BYD and Castrosua launch the first jointly-manufactured eBus
The Ceremony, held in Santiago de Compostela, celebrated the unveiling and presentation of the first tailor-made BYD-Castrosua 12-metre eBus and was hosted by Mr. Juan Luis Castro, President of Castrosua and by Mr. Isbrand Ho, Managing Director of BYD Europe.
It was attended by VIP guests including the Vice President 1st and Industry Counsellor of the regional Government Francisco Conde López, the Counselor of Infrastructure and Mobility, Ethel María Vázquez Mourelle as well as other Regional Government representatives, alongside Rafael Barbadillo, President of Confebus (Spanish Federation of Bus Transport), Jesús Herrero, Secretario General de ATUC and Arturo Perez, Director of AEDIVE.
BYD and Castrosua announced their joint manufacturing partnership in September 2022, creating a dynamic collaboration to provide Spanish customers with high-calibre and highly personalised 12-metre electric buses.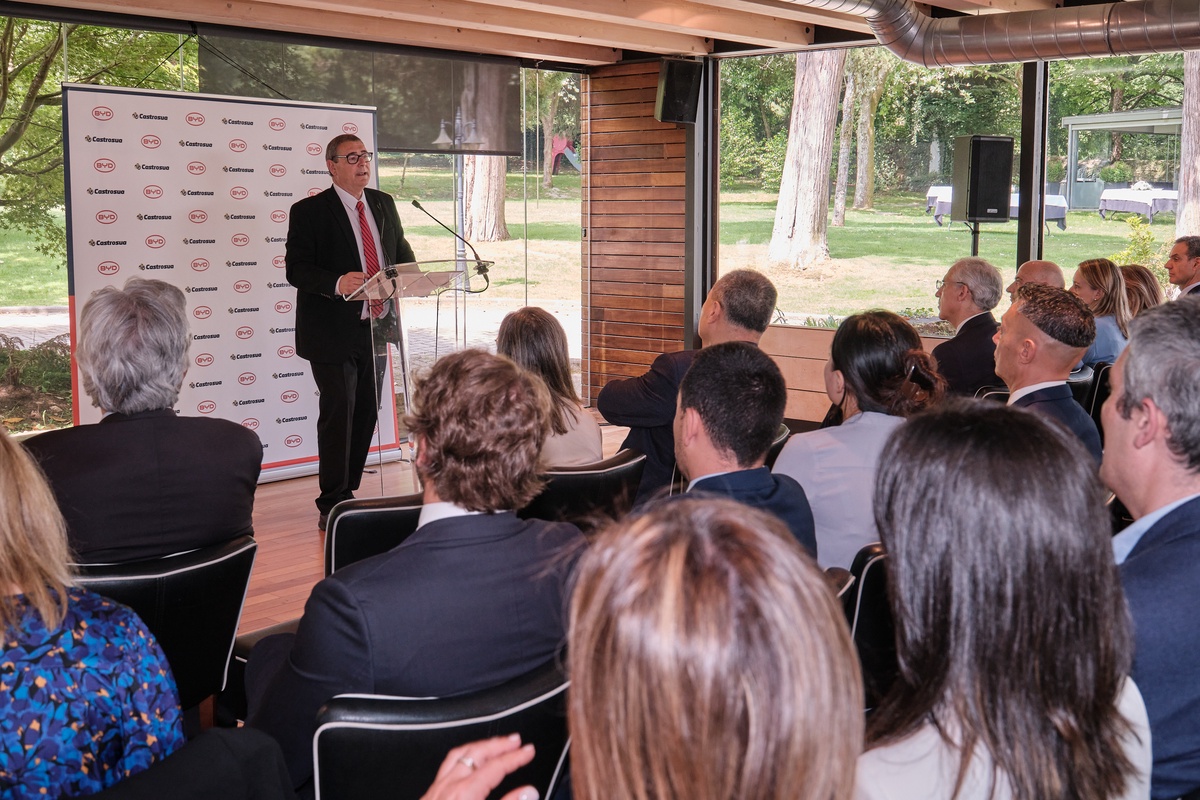 Javier Contijoch, Vice President eBus Sales of BYD Europe, is delivering the speech at the Official Presentation Ceremony
Javier Contijoch, Vice President eBus Sales of BYD Europe, said: "It gives us great pleasure to introduce the BYD-Castrosua 12-metre eBus to Spanish customers. We are very pleased to be collaborating with Castrosua and the unveiling of this debut model is an exciting milestone for the partnership between both companies. BYD strongly believes in strategic localised partnerships. We recognise this as being key to providing clients with the reassurance of local, knowledgeable customer service and support. Together, we look forward to bringing customers tailor-made solutions and world-leading technology."
Juan Luis Castro, President of Castrosua Group said: "This alliance has allowed us to build this first proposal that will undoubtedly be a benchmark in the market, an attractive and needed proposal, since it adds the experience of an excellent craftsman who has created the best bodywork, with the strength and capacity of a great company, long time world leader in electromobility, which provides the best electric platform. Castrosua and BYD. Excellence and capacity. A sure bet."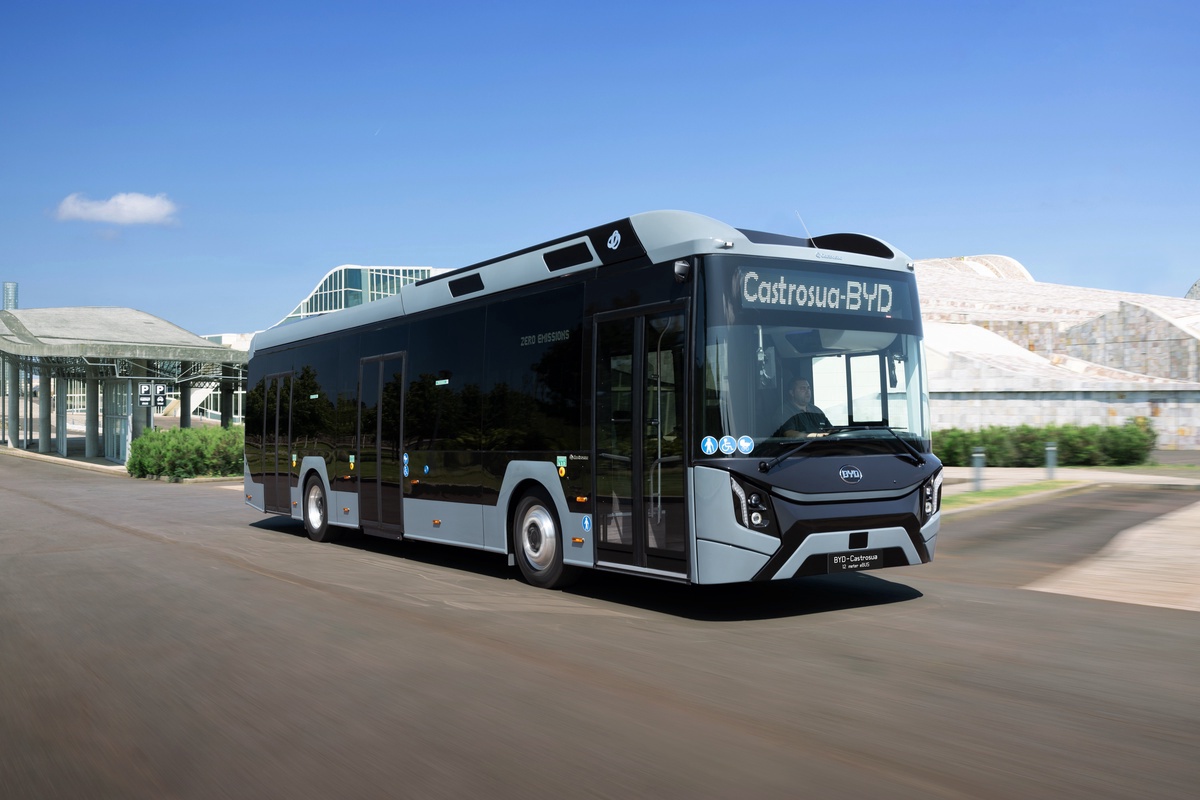 BYD-Castrosua 12-metre eBus in Spain
Pioneering BYD Chassis Technology for Safety, Reliability and Efficiency
Advanced BYD chassis technology is at the heart of the BYD-Castrosua eBus, evolving from BYD's vast experience in electric bus innovation. BYD has sold over 90,000 eBuses worldwide. The revolutionary BYD chassis has been developed for safety, efficiency and reliability. A key benefit is the 6-in-1 controller integrating the entire ecosystem of the bus for improved reliability and increased operational proficiency, as well as energy efficiency. The BYD Battery Thermal Management System ensures the battery stays at the optimum operating temperature, adapting to various climate conditions. There is also the reassurance of battery stability and safety as the BYD-Castrosua eBuses use Iron-Phosphate Battery Technology developed by BYD which has excelled in the most rigorous safety tests.
Award-Winning Castrosua Body for Exterior and Interior Customisation
Complementing BYD core technology is the highly configurable NELEC body from Castrosua, using 3D modelling during the concept phase, facilitates the development of all customisation and adaptation options, as well as streamlining production, repair and maintenance processes, while providing the customer with advanced and comprehensive presentations to assist in their decision-making process.
Nelec is an environmentally friendly vehicle, built with new materials and indirect LED lighting that is used throughout the vehicle to create a bright and spacious passenger cabin that generates comfort for users. With great attention to detail in the design of the spacious and ergonomic driver's cabin, as well as the inclusion of other innovative elements such as a new windscreen wiper system with independent motors on each arm, an independent air channelling system or indirect vision systems (digital cameras instead of mirrors).
In terms of safety, the Nelec body complies with the non-mandatory rollover strength regulation 66 for Class I vehicles, along with other features that exceed current legal requirements.
In addition, this high-performance vehicle is the lightest on the market in its class.
The BYD-Castrosua 12-metre eBus can accommodate up to 92 passengers, making it a practical size for city bus services. With 422 kWh battery capacity, it also offers an impressive range of more than 450 km on a single charge.
Soon, more completed BYD-Castrosua 12-metre eBus will be joining urban electric fleets, contributing to the transition to electrification of public transport in Spain. The eBus featured in the presentation will be showcased at the prestigious UITP Summit 2023 exhibition in Barcelona on the BYD stand 7G 100 in Hall 7.