United Kingdom • 2021-06-30
BYD: world's leading New Energy Vehicle maker comes to ITT Hub
Farnborough, UK – BYD, world's leading New Energy Vehicle (NEV) manufacturer, comes to ITT Hub with much more than the best-selling electric bus in key markets around the world; it also brings over 26-years of pioneering expertise in delivering its 'total solutions for eMobility'; including its electric battery innovation, solar power generation and utilisation, New Energy management, charging, software, and also automotive manufacturing across multiple industries.
BYD 'Total Solutions' for eMobility
More than any other electric vehicle manufacturer in the world, BYD is able to provide a 'pure-electric' solution. Significantly, BYD is the only electric bus manufacturer in Europe committed to providing electric-only solutions, with company's sustainability credentials well-aligned with the ambitious decarbonisation agenda in the UK, and in countries across Europe.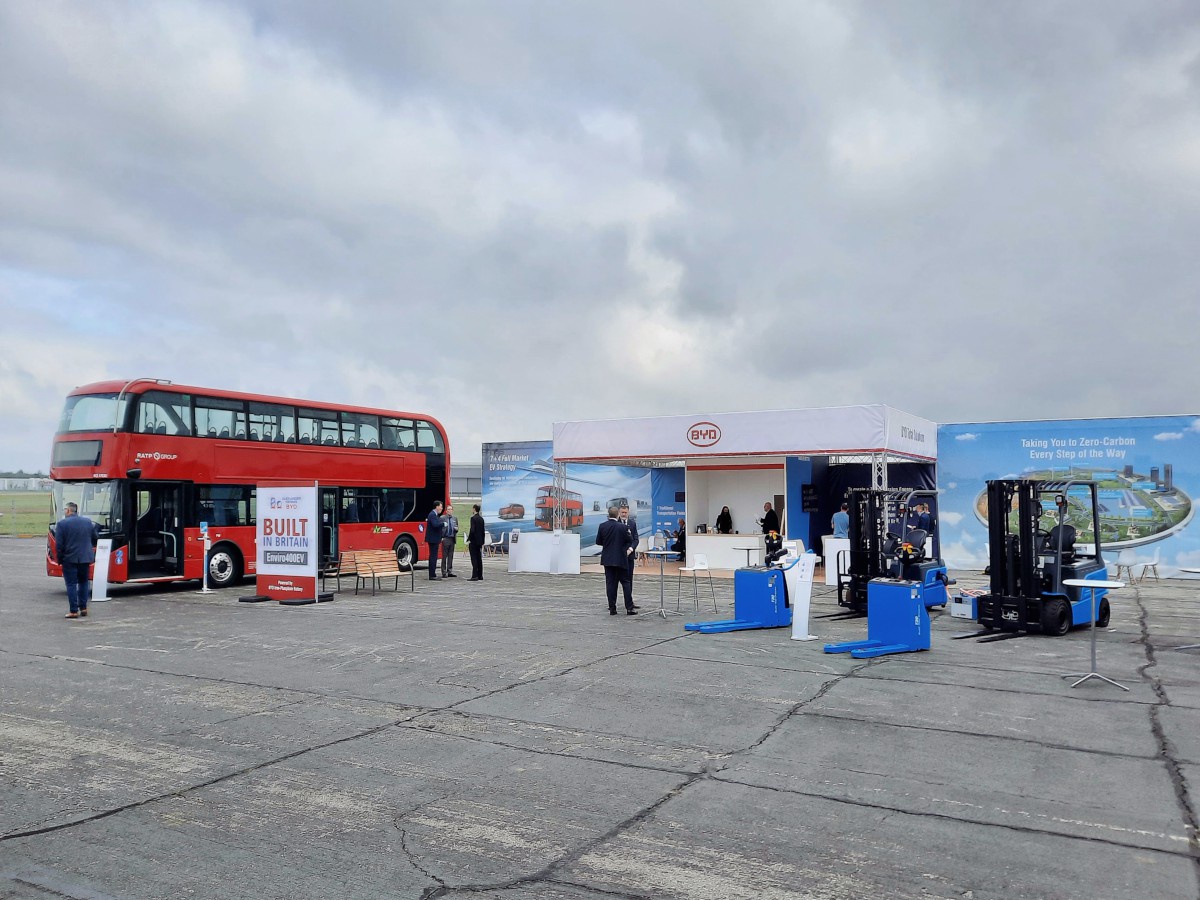 BYD Total Solutions for eMobility showcased on stand 7 at ITT Hub 2021
BYD is, above all, a creator of total solutions. The company's full range of New Energy products and services has given rise to a 'Zero Emission Energy Ecosystem' including eMobility, solar power generation, energy storage and utilisation; a total solution for a cleaner, more sustainable world.
BYD's eMobility portfolio of automotive products also provides a total solution for a wide range of industries. BYD has developed its global '7+4 full EV market strategy' which includes seven product ranges for conventional transport sectors, i.e. bus, coach, passenger car, taxi, construction, municipal and logistics. Four off-highway product ranges include vehicles and equipment for mining, ports, warehouses and airports.
"It's great to have the opportunity to engage again personally with customers and colleagues from around the EV industry," said BYD Europe Managing Director, Isbrand Ho, "ITT Hub presents a fantastic prospect to showcase our pure-electric bus and forklift products, and to discuss the importance of decarbonisation in the UK, and also in BYD's other markets in Europe. BYD is the only manufacturer in Europe to bring to market electric-only solutions," he said, "we are a provider of a truly sustainable, 'total solutions for eMobility' – for operators, for local communities, and for the wider transport infrastructure."
On show: BYD ADL Enviro400EV
BYD's show-stand incudes the BYD ADL Enviro400EV double-deck – one of two market-leading products from the BYD ADL partnership in the UK; a highly successful British collaboration comprising BYD UK and Alexander Dennis Ltd (ADL).
The BYD ADL Enviro400EV's specification includes a pure-electric, zero-emission powertrain driven by a BYD Iron-Phosphate battery delivering 339kWh (10.3-metre wheelbase) and 382kWh (10.8-metre wheelbase) serving two 150kW BYD motors. A single-charge range of up to 160-miles is offered depending on duty cycle and operation conditions. Stylish 'City' bodywork is designed and manufactured by ADL featuring an eye-catching glazed staircase. Also a best-seller in the UK, is the partnership's BYD ADL Enviro200EV single-deck electric bus.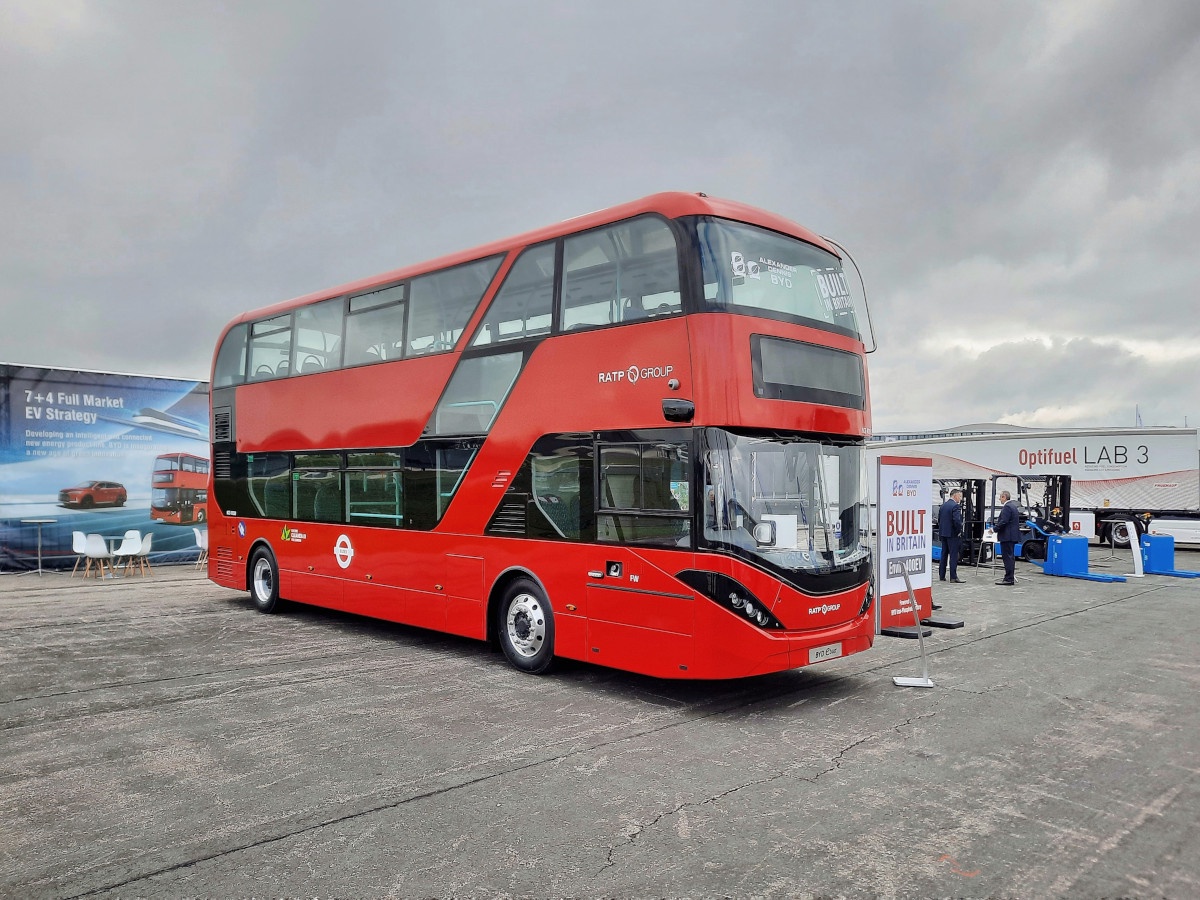 BYD ADL Enviro400EV double decker eBus
On show: BYD Forklifts – pure-electric solutions
BYD has also chosen ITT Hub to showcase its range of class-leading forklift and pallet trucks, delivering the same pure-electric, zero-emissions credentials as BYD's electric bus products. ITT Hub show-goers are presented with four products, each offering the lowest-possible cost of operation. First up is a BYD ECB25 four-wheel counterbalance forklift truck, designed to reduce driver fatigue, optimise productivity, and delivering a load-lifting capacity of up to 2.5-tonnes.
Next, the BYD ECB16 three-wheel counterbalance forklift truck is easy to operate and offers excellent stability. The IFOY Award-winning BYD ECB16 delivers greater performance than conventional forklift trucks while reducing energy consumption. A BYD PTP20 and a PTW20S powered pallet truck are also on show. These models are the industry's true workhorses, offering practicality and flexibility with all the benefits of BYD Iron-Phosphate battery technology, such as increased availability and low maintenance.
BYD's forklift products offer customers the highest level of efficiency and productivity. For example, Kent-based fruit processing company Cottage Farms equipped itself with a fleet of BYD material handling products, including reach trucks, counterbalance forklift trucks and powered pallet trucks as part of a company-wide drive to reduce its carbon footprint. As well as achieving that aim, Cottage Farms also saw an increase in operational efficiency and a reduction in its overall fleet size.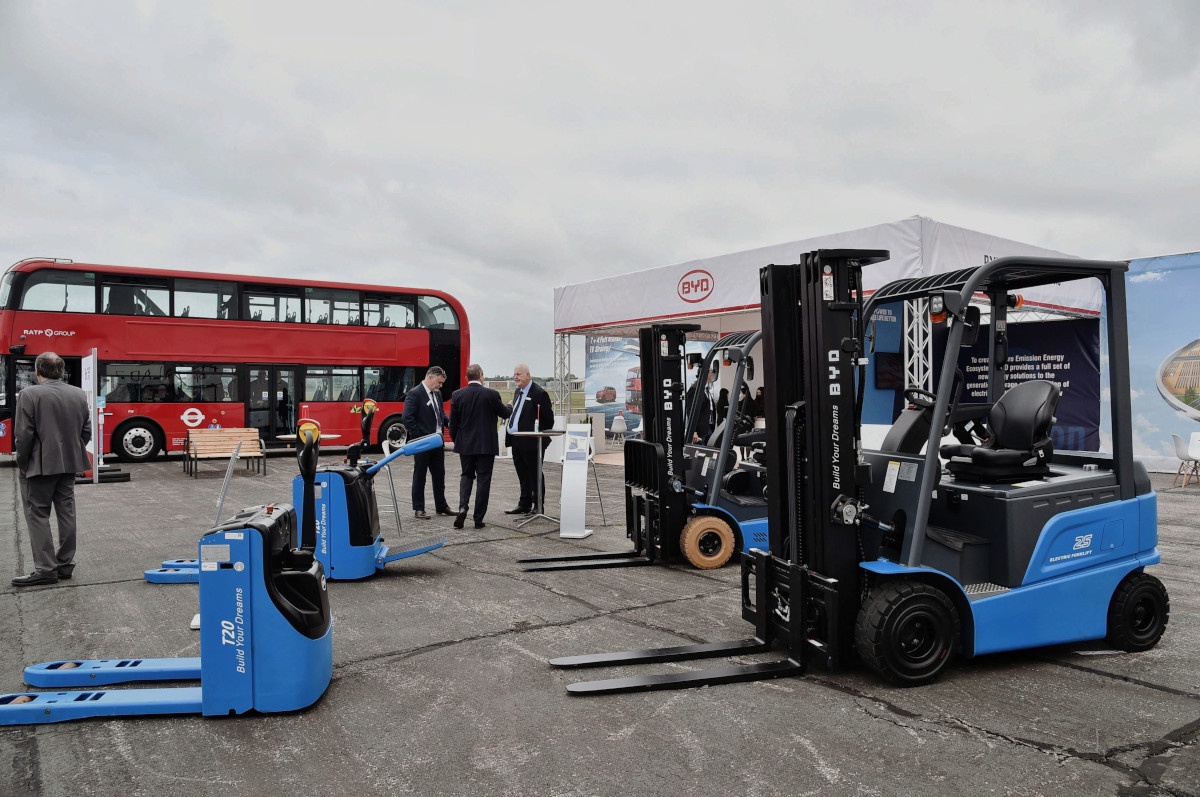 Range of pure-electric BYD Forklifts at ITT Hub
BYD – two decades of success in Europe
After more than two decades in Europe, BYD has established an excellent reputation in the electric bus industry and has worked tirelessly with local partners to build a market-leading position in all key markets throughout Europe. Today, over 2,000 BYD electric buses are in service or on order with European public transport operators in more than 20 countries and 100 cities, accounting for more than 100-million zero-emissions kilometres and reducing CO2 emissions by over 100,000-tonnes. Over 65,000 BYD electric buses and more than one million new energy passenger cars can be found in 300 cities and 50 countries.
Globally, BYD is a provider of total solutions with electric power generation and utilisation behind its products and services. Over 26-years have seen BYD grow into a worldwide leader in New Energy technology, including the pioneering development of electric batteries, advanced battery materials, Insulated Gate Bipolar Transistors (IGBTs), electric motors, solar power generation, alongside pure-electric automotive and rail transit manufacturing.
The passenger car - the 'start of the European dream'
BYD has also recently entered the European passenger car market for the first time; a move which the company describes as the 'start of the European dream'. BYD has selected Norway as the initial staging-post for its new BYD Tang SUV – a highly capable, pure-electric four-wheel-drive car bristling with the latest technology and high levels of equipment and comfort – where 100 vehicles are already on their way for Norwegian customers.
The BYD Tang SUV is equipped with BYD's latest, ground-breaking Blade Battery – the pioneering new technology which provides a step-change in safety and performance, and places BYD firmly ahead of its European competitors in terms of technological competence. Again, BYD's strategy of producing only pure-electric passenger cars sets it apart from other brands in Europe, underlining the company's total commitment to sustainability.
BYD eTrucks – the future of sustainable logistics
BYD's impressive portfolio of pure-electric products contains a wide variety of vehicles designed specifically for multiple industry sectors. One of BYD's latest European introductions will involve its new eTruck and eVan range of commercial vehicle models. BYD's pure-electric commercial vehicle range includes a panel van (ETP3) alongside a 7.5-tonner (ETM6) and a 19-tonne distribution truck (ETH8), plus a yard tractor (EYT); each satisfying the needs of operators in key weight sectors and across a wide range of urban and inter-urban applications. In a significant announcement earlier this year, BYD revealed it has signed a partnership agreement with Budweiser to supply 30 of its Q3 heavy-duty trucks for the leading beer brand, with a specification including a revamped motor drive system to deliver a single-charge range of more than 200km.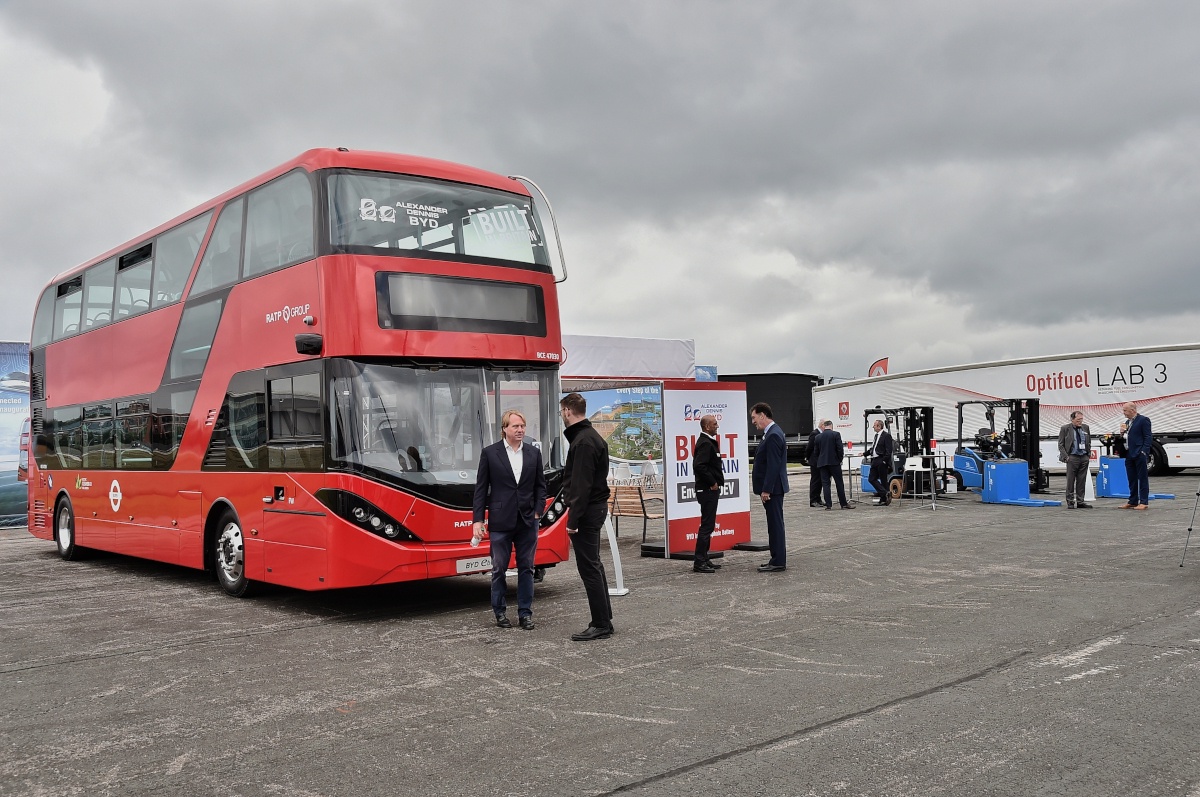 BYD stand 7 at ITT Hub 2021