2021-03-08
BYD Wins Environment Award with Cottage Farms
A fruit processing site operating a range of zero-emission BYD forklift trucks has won the Environment category of The Logistics Awards. Kent-based Cottage Farms, a fruit processor which supplies a household-name grocery chain with fresh apples and pears from local and overseas growers, won the prestigious accolade after demonstrating to the judging panel how it is investing in its operations to create the smallest-possible carbon footprint.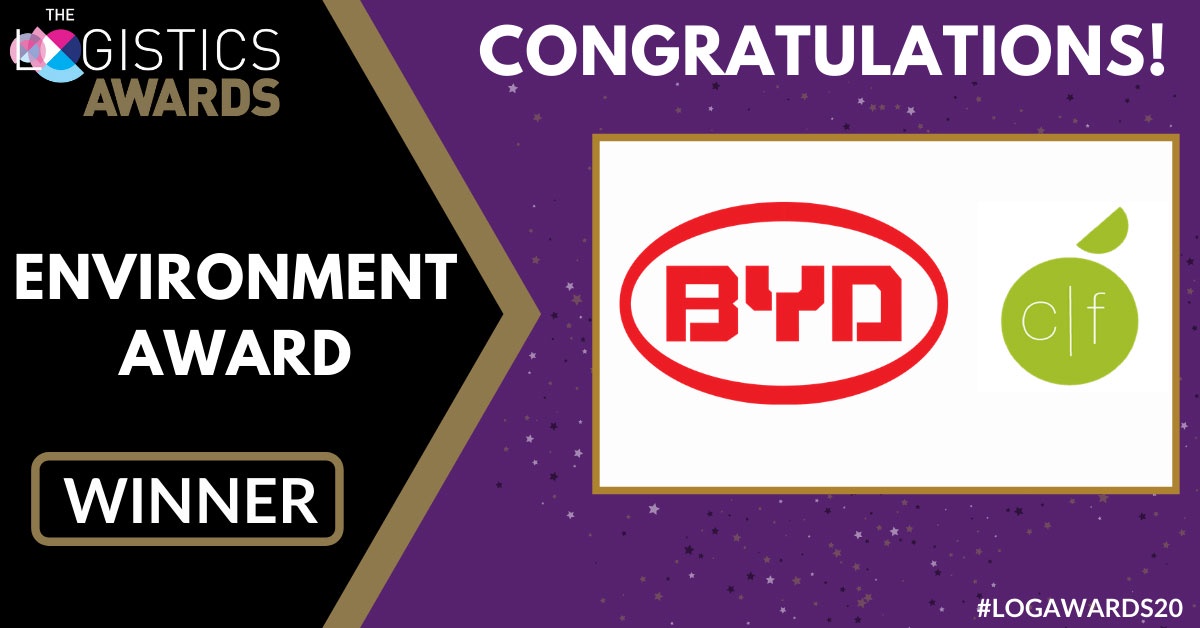 The win represents a repeat success for BYD forklifts. Another of its customers, McCulla (Ireland) Ltd., won the Environment category of The Logistics Awards the previous time they were held in 2019. McCulla was also presented with the Overall Winner Award in 2019.
In addition to installing solar panels to provide a significant proportion of its power, Cottage Farms switched its existing internal combustion (IC) and lead-acid electric-powered forklift truck fleet to a range of energy-efficient electric forklifts manufactured by BYD, a global leader in the provision of zero-emission technology. All of the pieces of BYD material handling equipment operating on-site at Cottage Farms feature the patented BYD Iron-Phosphate battery technology, which offers greater flexibility and fleet availability, leading to an improvement in operational efficiency. BYD forklifts provide customers with rapid charging times, long battery life, and reduced energy useage of up to 40% compared to the equivalent IC-engined equipment they replaced at Cottage Farms.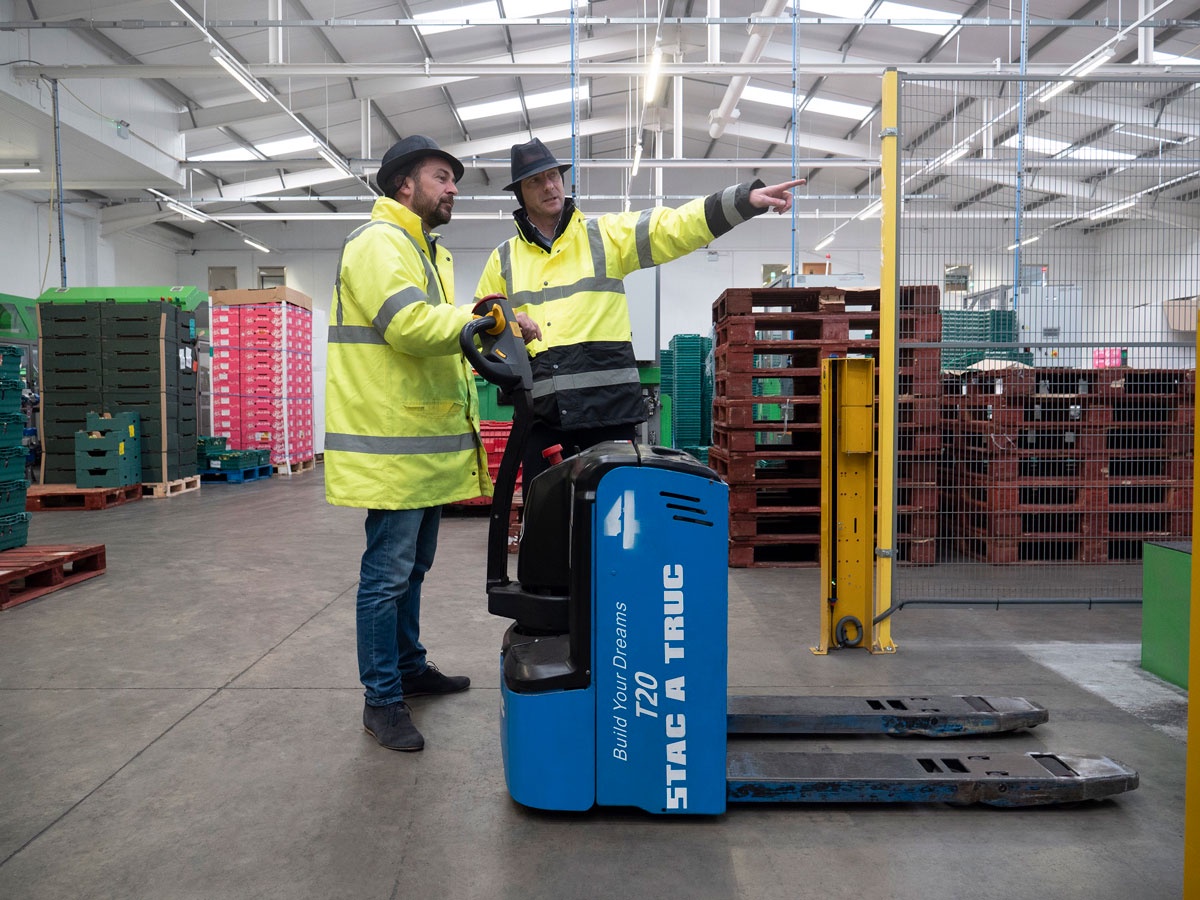 Jon Monteath (left) of BYD dealer Stacatruc discusses the material handling fleet with Cottage Farms MD Chris Browning (right)
Paul Grady, BYD Forklift UK and Ireland Country Manager, said: "Congratulations to Cottage Farms on their achievement. We are thrilled that BYD forklifts have contributed to helping one of our valued UK customers minimise their environmental impact. In the drive to move towards a more sustainable logistics ecosystem, BYD has demonstrated that it can play a big part in driving out carbon use from warehouse operations."
"I have an environmental want to progress the business, and also the way the business is seen from the outside," said Chris Browning, managing director of Cottage Farms. "Environmentally, the batteries we now use are far better than lead-acid. I also have a want to reduce my carbon footprint. Both have been achieved by utilising BYD."
The BYD fleet was supplied to Cottage Farms by its local forklift dealer Stacatruc, which is headquartered in Berkshire and offers forklift hire, sales, maintenance and finance to customers nationwide.
Jon Monteath, Sales Executive for Stacatruc, added: "We've worked with Cottage Farms to help lower their operational costs and reduce the overall size of the forklift fleet, whilst at the same time enhancing productivity. It is very satisfying to hear we have also contributed to help Cottage Farms win this award for the efforts they are making to eliminate carbon use from their operations."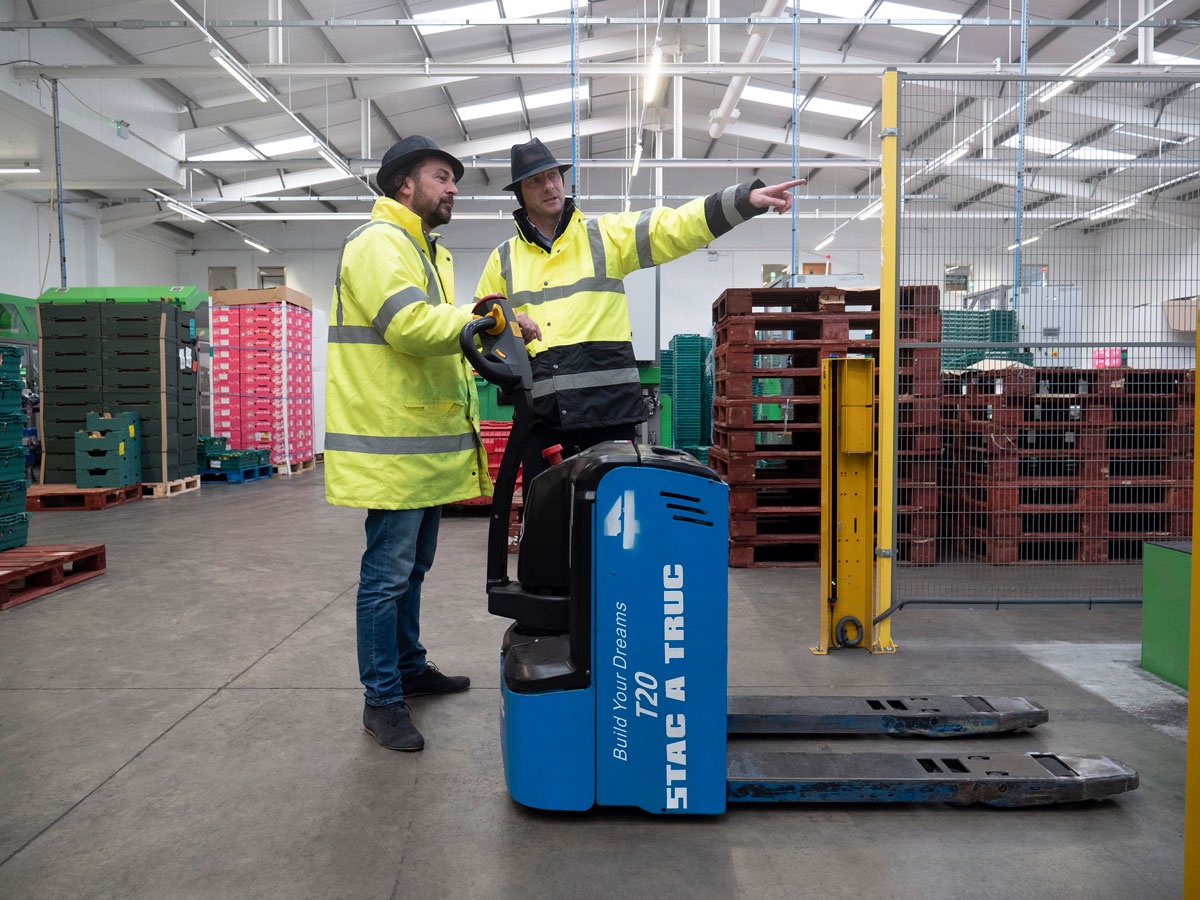 Cottage Farms uses a fleet of BYD ECB20 four-wheel counterbalance fork lift trucks to load and unload crates of apples outside in all weathers.
When compared to equivalent equipment powered by traditional lead-acid batteries, BYD batteries require no maintenance, have a longer working life, and use considerably less energy. BYD fast-charging technology allows the charging time to be reduced to just one hour. Furthermore, BYD Iron-Phosphate batteries can be opportunity charged during short breaks with no long-term detriment to battery life or quality, thus guaranteeing maximum uptime at the lowest-possible cost.