Netherlands • 2020-04-06
BYD reassures customers with continued commitment
We are living in worrying and peculiar times. Nevertheless, BYD Europe wants to re-assure our customers after introducing internal measures to ensure ongoing business support following the coronavirus outbreak.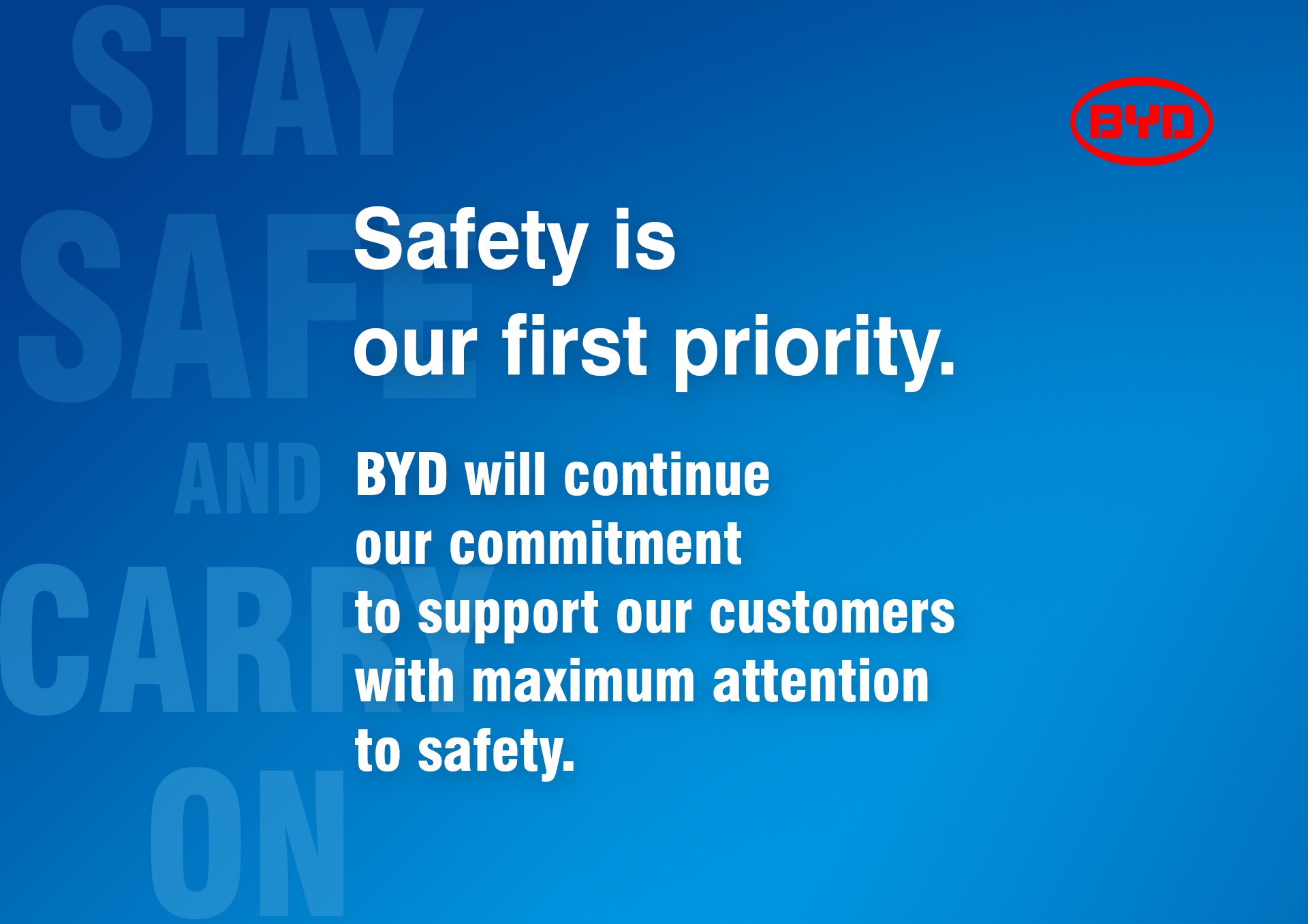 Customers operating BYD eBus and eCoach vehicles can rely on the full backing from BYD's customer support and aftersales portfolio of services – this is particularly important for the essential movement of healthcare workers – with spare parts and service teams working on location where and when required. Naturally, all the necessary safety protocols are now being implemented and observed.
Correspondingly, customer support and aftersales remains operational with BYD's forklift division, with dealer support across Europe. Again, BYD forklifts continue to perform a vital role in today's supply chain, especially during COVID-19 pandemic, primarily for supermarkets and pharmaceutical suppliers.
BYD's office staffs have followed the Dutch and other government recommendation and shifted to work-at-home. Continuously respecting the social distancing needs, all day-to-day functions of business meetings involving employees, partners and customers are via available online communications tools. The company has temporary ceased all non-essential business travel and face-to-face meetings. Many promotional and social events have been cancelled or rescheduled for later in the year.
Vehicle manufacturing at BYD's Hungary facility has entered a 'crawl mode', while the situation at the company's export factory in Hangzhou, China, is continuously improving, and thus allowing our production scheduling across a number of BYD factories to assure deliveries to customers in certain markets, albeit with minimum delays.
BYD's parts distribution network remains operational and, while some cross-border delays are inevitable, customers are advised that BYD is monitoring the supply chain on a daily basis to ensure stock levels and frequency of deliveries are maintained. The sales and service interface with customers also continues, although on a 'from-home' basis. BYD Europe's office headquarters in Schiedam, Netherlands, is now closed and will reopen in accordance with guidelines from the relevant health authorities and the Dutch government.
Following the announcement recently of the commencement of a dedicated medical face-mask and hand-sanitiser production facility, BYD is making available quantities of these products to governments, employees and customers in a concerted effort to help fend off the coronavirus outbreak.
BYD Europe's Managing Director, Isbrand Ho, has written to customers, partners and employees to reassure individuals of the company's commitment to ensuring business will continue during the coronavirus pandemic.
"The weeks and months ahead will be a challenge for us all," said BYD Europe Managing Director Isbrand Ho, "however, we are a strong, resourceful company and we're fully committed to ensuring our employees' safety, and will continuing to provide first-class service to our customers. There will be some disruption – for us all, inevitably – but we have the capacity to deliver essential services for our customers. The whole BYD family is behind the effort," he said, "I urge everyone to stay safe."