China • 2020-03-13
BYD unveils world's largest mass-produced face-mask production facility
Shenzhen, CHINA  Today, BYD can announce the creation of the world's largest mass-produced face-mask production plant. The move by BYD comes as demand for hygiene products surges following the global COVID-19 outbreak. The facility is operating at full capacity, producing five million face-masks and 300,000 bottles of disinfectant every day.
BYD's state-of-the-art facilities and huge R&D capability make the company uniquely placed to help alleviate severe shortages that have affected hospitals and agencies across China and the world.
The introduction of BYD hygiene products is a clear demonstration of BYD's corporate social responsibility mandate. Moreover, the move is an expression of the company's strong desire to help China, and the world, combat the coronavirus. With its impressive resources, BYD is very pleased to be in a position to help the global community.
Following the pandemic, BYD plans to continue producing hygiene products in response to demand, although production will not form part of BYD's core product portfolio. In the meantime, BYD is already looking to increase production still further in anticipation of growing demand for hygiene products around the world.
On February 8, the newly-built production lines at one of BYD's industrial centres in Shenzhen started to produce critical supplies of face-masks and disinfectant bottles, with hundreds of staff working both day and night shifts around the clock.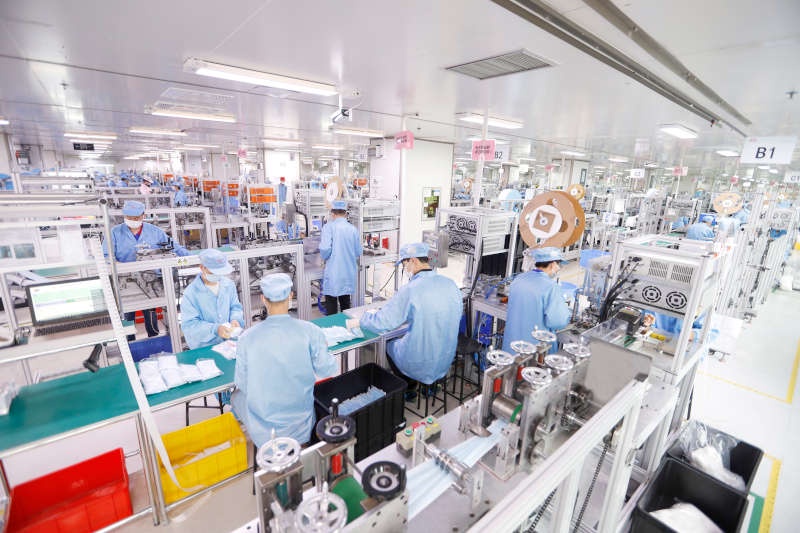 On February 8, BYD officially announced the production of face-masks and disinfection gels to tackle the COVID-19 outbreak
In late January, BYD began to assist in the production of masks and disinfection gels to tackle the growing COVID-19 outbreak. A special task force was appointed by BYD Chairman and President, Wang Chuanfu, consisting of leaders from different business divisions and more than 3,000 engineers involved in research and development, design, processing and other roles.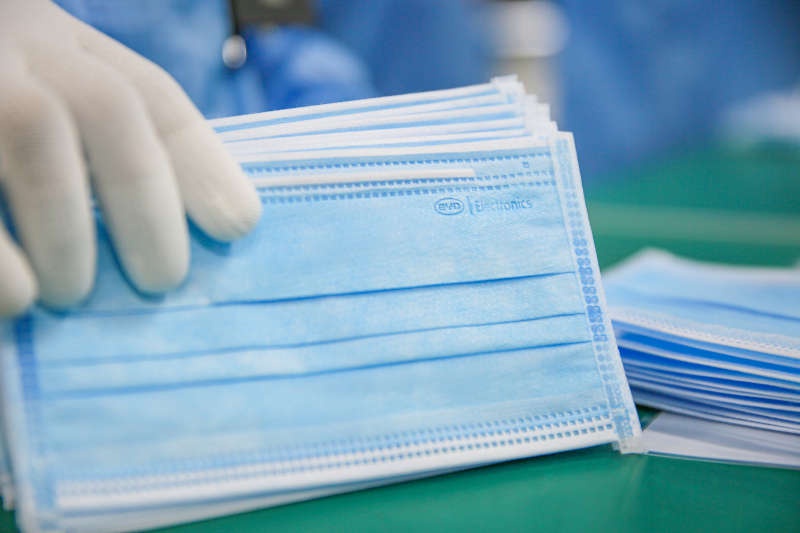 BYD's face-masks
The task force moved with incredible speed, and in less than two weeks, it had finished work that normally takes two months to complete. It completed both the R&D and manufacturing process of face-mask production equipment within seven days, whereas on the market, it would normally take 15 to 30 days to fully manufacture a mask-producing machine. At the same time, BYD also completed the R&D of medical-grade hand sanitizers in just six days, which were then shipped to medical staff on the front line of the epidemic after just eight days.
BYD's strong R&D capabilities, combined with its manufacturing facilities and creativity, have enabled the firm to mass-produce quality fac-masks in a short period of time, reflecting its unremitting efforts to counter the epidemic. Face-mask production requires an impeccably clean and sterile environment and equipment, and BYD's dust-free rooms, previously used for the assembly of smartphones, are particularly well-suited for this. During the Spring Festival period, the company was unable to obtain face-mask-making equipment rapidly enough, so it set about making its own machines. BYD can now make more than a dozen of these machines a day.
"A production line for high-quality face masks requires about 1,300 parts for various gears, chains, and rollers, 90% of which are BYD's self-made parts," said Sherry Li, Director General of BYD's President Office.
Since its founding, BYD has set up a specialized team to conduct R&D and manufacturing for its equipment, and the team has been engaged in the independent R&D and manufacturing of complex production lines and equipment, such as electronics, batteries and new energy vehicles. Its own machining centers, for example, have a variety of high-precision equipment like grinding machines and molds. This collection of hardware, along with the reserve of professional and technical manpower, has given BYD strong capabilities and rich experience in large-scale precision manufacturing over the years.
"For BYD's electronics business, the high-end mobile phones that we produce have high requirements in terms of quality, waterproofing and other aspects. This also comes with our high standards for molds, automated equipment, manufacturing processes, and more," said Zhao Jianping, General Manager of BYD's Quality Division. "In other words, the equipment that we already have offers precision and quality that is much higher than what is commonly required to produce masks."
According to the Chinese government's quality inspection department, the quality of BYD's face-masks is significantly better than similar face-masks in the industry.
As a multitude of orders have come after the company announced its production of face-masks and disinfectants, the most pertinent challenge was the rapid expansion of its production capacity to meet the demand for these much-needed items. With the company making about five to ten new face-mask-producing machines on a daily basis, the number of face-masks produced by BYD is increasing at a rate of approximately 300,000 to 500,000 units per day. It currently has a total production capacity of five million face-masks per day, which is equivalent to a quarter of China's entire production capacity in early February.