2018-09-19
BYD demonstrates leading European position in IAA 2018
BYD is making its second appearance at IAA from 19 to 27 September in Hannover and will be demonstrating its leading position in the European electric bus market. Since it started its bus sales in Europe in 2010
BYD has sold over 600 ebuses, which amounts to a 20% market share. BYD is thus by far the market leader in electric buses with over 35,000 ebuses delivered worldwide and is constantly developing its products.

Two years ago at IAA BYD globally premiered the world's first pure electric coach. This year BYD is unveiling its first 12m highly modular ebus as well as an 18m articulated ebus featuring pantograph charging.
The highly modular ebus is based on a new manufacturing concept which totally optimizes the structural design. This speeds up the R&D manufacturing and installation time and leads to fewer components. With many of these components being provided by top European suppliers, product quality has been further improved. In addition, through the use of new materials, the modular construction results in a lighter weight ebus.
Both the 12m ebus and 18m ebus on show share BYD's 'new look' frontal styling and are equipped with new features, including the high power density BYD Iron-Phosphate battery along with BYD's industry leading Battery Thermal Management System. The buses are in addition equipped with a Smart Monitoring and Diagnosing System, allowing customers to remotely control bus systems and diagnose problems.
Both buses were manufactured or final trial assembled in BYD's two European bus factories. The 12m ebus is produced in Komarom, Hungary. This first ever European BYD bus plant has been up and running since April 2017. Since its opening it has delivered bus fleets to Dutch customers Connexxion and Syntus and to the Swedish Nobina. Recently it has begun production of 30 12m ebuses for Brussels Airport.
The 18m articulated ebus was final assembled in the second BYD bus plant in Europe, located in Beauvais, France. This factory, initially meant to final trial assembly buses that are produced in Hungary for the French market, will be commissioned within a month.
In IAA today, a major order for BYD was announced today. The Swedish bus operator Nobina placed orders for a total of 26 ebuses, of which 11 of the 12m ebuses, 10 of the 18m articulated ebuses and 5 of the 8.7m midi buses, servicing routes in south-west Sweden. With these new orders, BYD has received orders for more than 100 electric buses in 2018 in Scandinavia.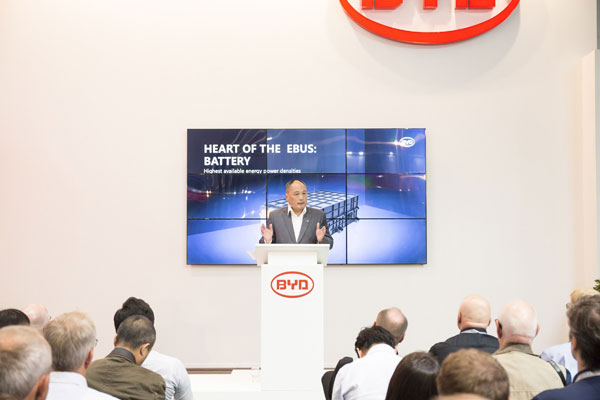 Isbrand Ho, Managing Director at BYD Europe speaking at the press conference, said: "There are many new electric buses on show at IAA 2018 but BYD, as the most experienced and largest ebus supplier, can take a more mature approach. We are announcing important product enhancements delivering real operator benefits although our ebuses and their service support have nothing to prove in performance, reliability or range".