2018-07-05
BYD wins order for large fleet of articulated ebuses in Europe for Oslo
BYD will deliver a large fleet of pure electric articulated buses in Europe to Norway's capital city, Oslo. Two orders have been placed by Nobina, the first European operator to put Chinese produced BYD 18m
ebuses into operation, for a total of 42 units of the BYD 18m. BYD has had two artics running in Oslo since last year December which are Norway's first electric artics.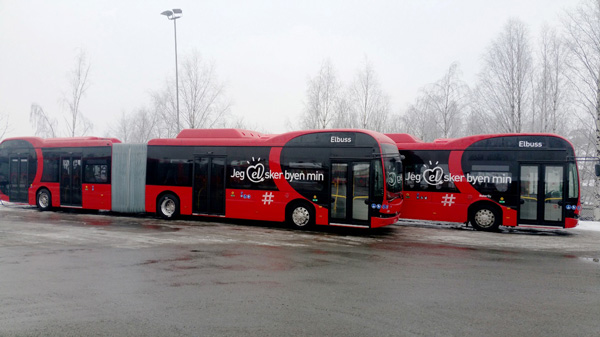 The 42 ebuses, equipped with pantograph charging, are scheduled for delivery in the second quarter of 2019 and will mean a fleet of 44 vehicles in total. It is thought to be the largest electric articulated fleet in Scandinavia.
The new ebuses will service routes in the Oslo area and in particular in the east of the capital city, and are replacing a current fleet of diesel vehicles.
Jan Volsdal, managing director of Nobina, said: "Over the next ten years Oslo is planning to run a zero emission public transport system and we, together with BYD, are making a big contribution to make this plan come true. We have good experiences with the two BYD artics that have been running in Oslo for half a year including the challenging winter months and we have confidence that the new fleet's performance will meet our expectations."
Isbrand Ho, Managing Director at BYD Europe: "We are very delighted that Nobina has chosen BYD again to run their routes in Oslo and to demonstrate the effectiveness of BYD's 18m artics in delivering an intensive, high capacity service. We offer various charging solutions, such as pantograph charging to our customers to meet their requirements on operational mileages."