France • 2018-06-29
BYD France wins French Innovation Award
BYD has won the Award presented by Nord France Invest for International Investment 2018 in the Innovation category, the only company to win in this category. The award ceremony, organized by Nord France Invest, the investment promotion agency for Northern France, took place today in Amiens, in the north of France.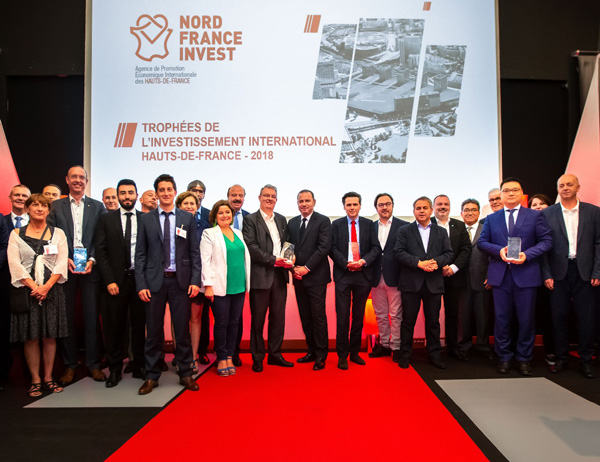 All the five Award winners from the five categories at the Nord France Invest ceremony in Amiens today. BYD's Leevon Tian who accepted the only Award in the Innovation category is third from the right.
The award, which is only made every three years, was judged by a special Jury composed of the members of the Board of the Nord France Invest Agency, the winners of the second edition presented in 2015 and a panel of experts. The Award, together with awards in four other categories, was presented at a ceremony in Amiens today to Leevon Tian, Managing Director at BYD France. The investment awards reward foreign companies that have decided to invest in the Nord France region in the last three years. In 2017 BYD announced it was investing 10 million euro in an electric bus assembly plant in Beauvais. The project calls for around 100 jobs to be created in the initial phase. The production facility will occupy 32,000 sq m of a site totaling nearly 80,000 sq m, and will assemble up to 200 vehicles a year—single-deck buses and coaches—in its first phase. The opening of the plant is scheduled in October this year.
Leevon Tian, Managing Director at BYD France, speaking at the ceremony said: "It is a great honour for us to receive this Award. It is an understatement to say that our welcome to Beauvais and Northern France has been warm. We selected Beauvais because of the ideal location and the supportive welcome and proactive approach of local and regional authorities, including the Hauts-de-France region, the Beauvais Conurbation, Nord France Invest and Business France. We are currently well underway on our plan to open the plant in four months. This award certainly motivates and inspires us to continue our business in the important French bus market."