France • 2018-06-13
BYD shows off new ebus 'face' at Transports Publics in Paris
A completely new exterior appearance for its ebus range of pure electric buses is unveiled today by BYD at the Transports Publics Show in Paris.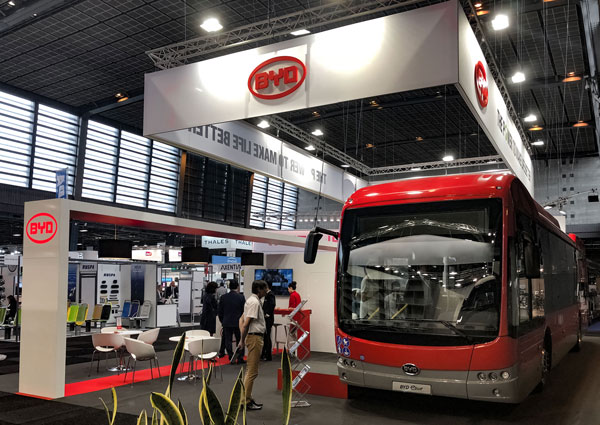 The company is exhibiting a 12m ebus with the dramatic new front and rear appearance which will be the new standard for all BYD ebus models, including the Midibus, which was revealed at Busworld 2017. An 18m artic ebus with the new frontal appearance is expected to be unveiled later this year.
The BYD 12m ebus on the stand has a number of features which will also be common to future BYD models including no batteries in the passenger saloon, a new ergonomic driver's compartment, and LED lighting.
BYD, which is attending the Show for the third time, is demonstrating its commitment to the important French bus market. The new BYD assembly plant in Beauvais north of Paris is expected to start operation in the second half of this year. It is the second bus assembly plant for BYD in Europe, after the facility in Komarom, northern Hungary.
The Beauvais project calls for around 100 jobs to be created in the initial phase. The production facility will occupy 32,000 sq m of a site covering nearly 80,000 sq m and will assemble up to 200 vehicles a year—single-deck buses and coaches—in its first phase. Other vehicles may be added as BYD expands its product line. In addition to bus assembly, BYD plans an after-sales unit for maintenance and repairs, as well as a logistics centre for spare parts. In the longer term, a test centre for batteries may be added.
"France is now clearly established as one of BYD's 'home markets' and the new Beauvais facility will enable locally built buses tailored to meet local expectations to be offered to French customers in the near future", said Isbrand Ho, Managing Director of BYD Europe.