Spain • 2018-04-22
BYD strengthens position in Spain - Order of 8 ebuses for Badalona/Barcelona
BYD is strengthening its position in the Spanish bus market. BYD and TUSGSAL, a public transport operator in Catalonia, Spain, signed a contract this week for the delivery of eight BYD pure electric 12 metre buses to the city of Badalona in Barcelona province.
It is the second Spanish order for BYD after being awarded the tender to deliver one 12 metre ebus to bus operator EMT in Valencia in April 2017.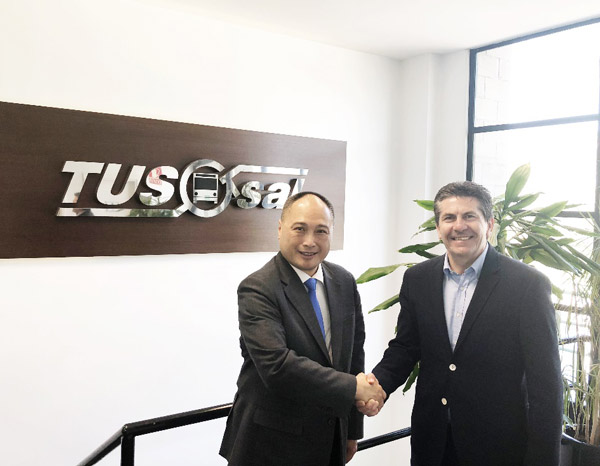 It is the first pure electric bus fleet for Badalona. The eight ebuses are expected to be delivered in the beginning of 2019 and soon after delivery they will service routes in the city of Badalona.
Alfonso Suarez, Deputy Director and Secretary of the Board at TUSGSAL, said: "We are very excited about our first purchase of electric buses and delighted that BYD will supply them. It will be the first electric bus fleet in Badalona and we are looking forward to next year when we will start operating them."
Isbrand Ho, Managing Director at BYD Europe said: "Just a month after we confirmed the order of eight ebuses to Portugal, a new market for BYD, we are delighted to have confirmed this Spanish order. Thanks to TUSGSAL, citizens in Badalona will benefit from improved air quality with the help of our buses.This development underlines BYD's growing market expansion across Europe - in this case in the competitive Iberian peninsula".