2017-01-11
BYD wins Connexxion ebus order in the Netherlands
Officials from Connexxion Public Transport, the Dutch subsidiary of Transdev, and BYD Europe today attended a signing ceremony in Hilversum, the Netherlands, of a contract for the supply by BYD of eight pure electric ebuses.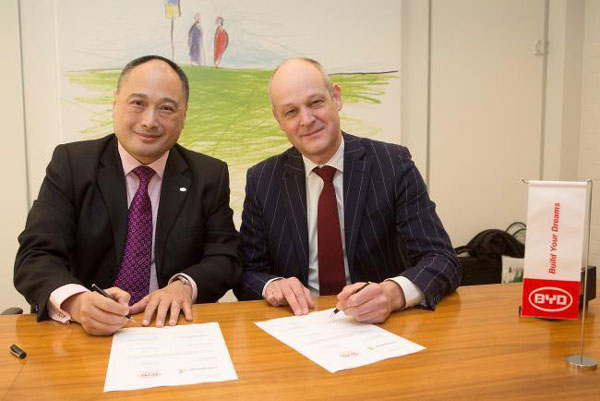 The ebuses will enter service in Haarlem city from September 2017. Each bus is expected to cover 85-90,000km a year, with huge savings of emissions of harmful exhaust gases when compared with diesel-powered vehicles (BYD ebuses emit no pollution at all). As well as being emission free the BYD ebuses are much cheaper to operate too thanks to the lower cost of electrical energy. The agreement signed today calls for the in-service support of the buses by BYD for a 10-year period.

These are the first all-electric buses to be ordered by Connexxion for service in the capital city of North-Holland, Haarlem. Connexxion is the first public transport company in the Netherlands to take a prominent role in the transition to zero emission public transport. After the implementation in the city of Eindhoven of the one of the biggest zero emission fleets in Europe, the Haarlem region is now following.
Eric van Eijndhoven, Managing Director of Public Transport for Connexxion, said: "We are excited to take an important step in improving the sustainability of the Haarlem region. These electric buses have already proven themselves, completing hundreds of millions of passengers/kilometres around the world. We know our passengers and other residents will appreciate these quiet electric buses when they enter service".

Isbrand Ho, Managing Director of BYD Europe, said "This is a highly significant order for BYD coming from the Dutch subsidiary of one of Europe's largest public transport operators. In the closing weeks of 2016 we announced major orders from city bus operators in the UK and Italy and we have further good news to reveal very soon from a number of sources. The electric bus revolution is right here, right now and we are delighted that BYD is leading it!".