2016-05-09
BYD Further Extends Its Footprint in South America
The threats posed by climate change have prompted stakeholders in both public and private sectors to take action towards sustainable development. Aware of the more direct and immediate impact they can have on people's lives
, administrations in the municipal sphere worldwide are hurrying to come up with solutions to promote sustainability, and a great deal of their efforts is aimed at public transport electrification. The same commitment has inspired BYD Company Ltd. to focus on developing feasible solutions in sustainable transportation that will ultimately result in environmental preservation, improved quality of life for city dwellers, as well as economy and efficiency for operators. The fruits of BYD's labor and perseverance are now scattered across the globe, and the latest accomplishment is with the Municipality of Santiago, Chile, where the company has recently partnered with Chilectra, the country's power generation and distribution company, to introduce the first free community transport service provided by a pure electric bus.

The vehicle to serve the system is the BYD K9, a 12-meter, 3-door pure electric transit bus with capacity for 70 passengers, also featuring in-wheel motors, low floor, access for people with disabilities and space to anchor a wheelchair. It runs on BYD's proprietary Iron-Phosphate Battery, a fire-safe, lengthened lifespan and completely recyclable battery that grants the vehicle a 324kWh capacity and 250 km driving range on a single charge, which takes about 5 hours to be completed and takes place at off-peak hours, when energy cost and demand are lower. The cost to fully charge the BYD K9 barely exceeds 20,000 Chilean Pesos ($30 USD) and its performance is 1km per kWh which translates into about 80 Chilean pesos ($0.12 USD) per kilometer. The K9 is BYD's best-selling bus of its category worldwide, having been extensively tested in Asia, Europe and the Americas, and certified by the Vehicular Inspection and Certification Center (3CV) of the Ministry of Transport and Telecommunications.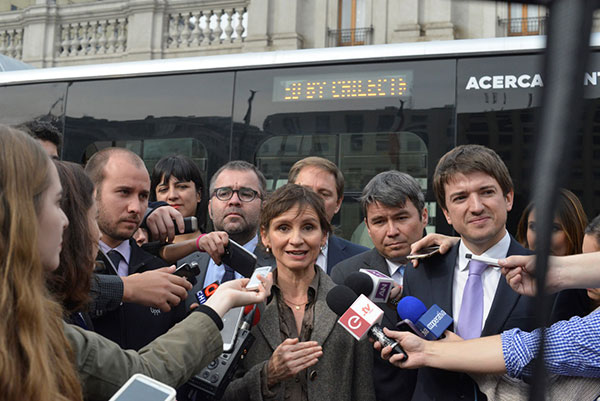 The K9 model was added to the first initiative of environmental mitigation under the regulations of the United Nations (NAMA) that was implemented by the Municipality of Santiago's project Zona Verde, and is part of a fleet of electric vehicles that was put into operations in December last year along with the first electric taxis in Chile. There are over 5,000 units at service worldwide since 2010 and the largest fleet is in the city of Shenzhen city, China. Additionally to the clear environmental benefits and improved service quality, the adoption of electrified public transportation substantially reduces fuel and maintenance costs to transport operators: 70% savings in maintenance and performance is 80% more efficient as compared with traditional diesel buses.
"Our commitment as a company is to provide feasible and effective electrified transportation solutions. We believe that Chile has the potential to lead such initiatives and it may become a role model for other South American capitals. Sustainable public transportation and public policies that encourage the use of clean technology is currently the main challenge to achieve truly sustainable cities", said Tamara Berrios, Director of Business Development of BYD Chile. "We're already a role model in the Latin American Continent, with countries like Colombia and Brazil already benefitting from our technology in public transport services, and Chile following suit with the implementation of its first fleet of BYD pure electric taxis last December," she added.