2016-03-25
BYD Showcases Its EV Technology at Southeast Asian Prime Ministers Summit
(March 24, Sanya, China) The leaders of six countries along the Lancang-Mekong River – namely China, Thailand, Myanmar, Laos, Vietnam, and Cambodia – gathered to discuss cooperation on economicand security issues involving the region at the first Lancang-Mekong Cooperation Leader's Meeting on Wednesday, March 24, 2016, in the city of Sanya, Hainan Province, China. Over 200 other ministerial level leaders attended the meeting and visited the parallel exhibition. BYD Company Ltd. was the only automaker invited to take part in the exhibition, where it showcased one of its star models, the BEV version of its sedan Qin. Chinese Prime Minister Li Keqiang was deeply impressed with the company's display of high technology, and so were the other leaders in attendance.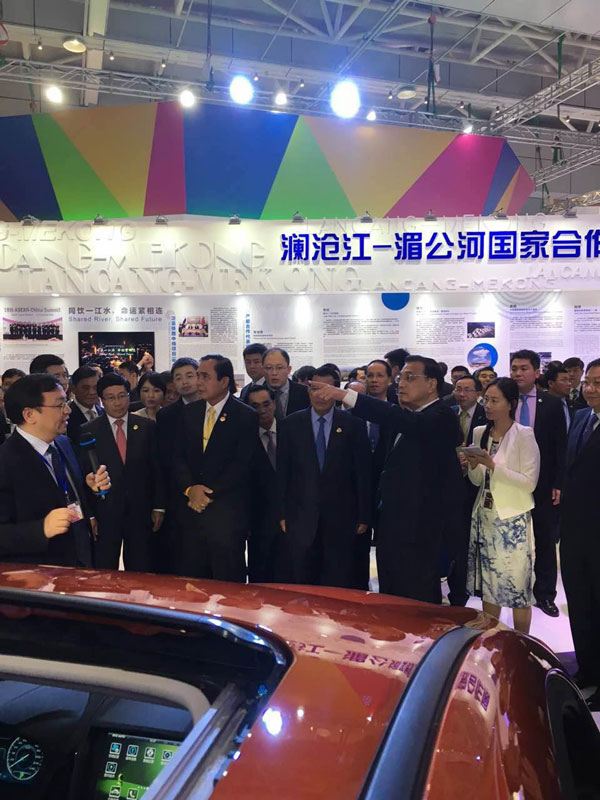 The exhibition aims to display China's leading technologies and R&D achievements, with 13 exhibitors in the sectors of aviation, new energy vehicles, communication, high-speed rail and agriculture, etc. Additionally to the pure electric Qin, other highlights of the exhibition were the booth of China Railway Group and the hybrid "super rice" developed by Chinese academician Yuan Longping. Wang Chuanfu, chairman and president of BYD stated: "BYD detains full command of its proprietary core technologies to vertically integrate the production of its new energy vehicles, from the power battery to the electric motors and electric controls. We have developed a full range of new energy vehicles to cover all forms of ground transportation. Our range comprises pure electric bus, coach, truck and forklift series, passenger BEVs and PHEVs, among others, so we can gradually achieve a complete market layout of NEVs. We strive to have all urban road vehicles replaced by electric versions, and our experience and maturity have made us ready for that."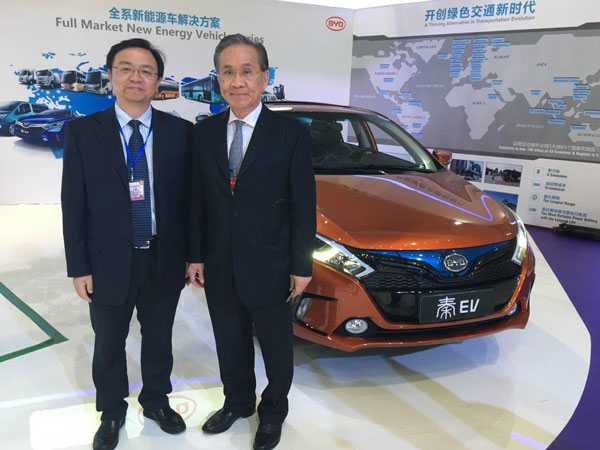 BYD's prospects of development in Southeast Asia are very optimistic. Over the last year, the company has consistently strengthened its foothold in several countries in the region with the introduction of its NEVs, chiefly its pure electric K9 bus and e6 taxi, the plug-in hybrid Qin and pure electric forklifts. Some of BYD's greatest achievements in Southeast Asia are in the area of electrified public transportation: in Malaysia, it supplied all of the 15 pure electric buses running BRT Sunway Line, the world's first all-electric BRT system; in Singapore, the company has a fleet of 30 pure electric e6 running a special taxi service; in Thailand, BYD partnered with Thailand's industrial and commercial giant Loxley Group to produce NEVs in the country, and in January this year, Thai Prime Minister, Prayut Chan-o-cha, personally boarded the first pure electric bus assembled in Thailand, giving it high praise; and recently it was Indonesia's turn, with BYD announcing an agreement with Jakarta's bus operators to deliver a record breaking 150 units of its pure electric bus within two years, to serve their own BRT systems.