2016-01-15
BYD supplies DHL with electric distribution fleet
BYD has supplied global logistics specialist DHL with a pioneering fleet of pure electric distribution vehicles
.

The first batch of 35 pure electric vans – BYD's all new T3 commercial vehicle model - has been delivered to DHL International Air Express Co. to provide daily logistics in the Central Business District of the southern Chinese city of Shenzhen and surrounding areas.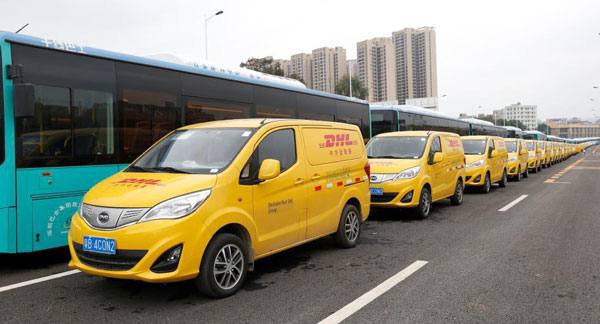 The fleet is the start of a strategic cooperation between DHL and BYD which includes warehousing, city distribution and other fields in the Chinese market. If this initial fleet proves successful it is anticipated that more BYD logistics vehicles will enter service with DHL.

BYD's all new pure electric vehicle T3 adopts the advanced technology and design of its MPV family of vehicles, including stylish external appearance and a spacious and comfortable interior.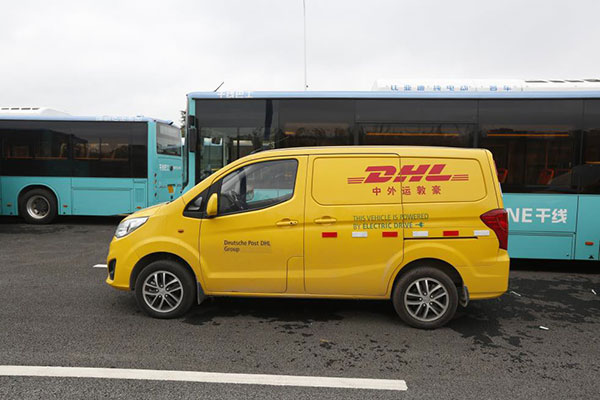 It has a 3.5-cubic-metre cargo space in the rear capable of carrying loads up to 800kg. The T3 has a gross weight of 2,625kg. The maximum torque is 310Nm and the maximum speed 130kmph. The overall range between recharges is more than 200km. Like all of BYD's pure electric vehicles, the T3 is equipped with BYD's advanced iron-phosphate batteries.

In addition to the T3, BYD has also launched its T5 and T7 pure electric logistics vehicles with larger cargo capacity to meet more logistics needs. The T5 has a gross weight of 7,320 kg and a range of up to 250km while the T7 has a gross weight of 10,695 kg and a range of up to 200km.
Logistic vehicles form an important part of BYD's "7+4" strategy, which is to electrify all vehicles on road using fossil fuel. The company aims at electrifying all possible means of transportation, and it has gone a long way towards accomplishing such feat: the "7" stands for major conventional vehicles, comprising bus, coach, taxi, private car, urban logistics truck, sanitation truck and construction truck (concrete mixer); and the "4" stands for specific off-road environments: warehouse, mining, airports, ports
Improving carbon efficiency and taking environmental responsibility is an important part of the 2020 strategy of DHL Group. To meet the city logistics development needs, DHL has been exploring green logistics solutions, taking advantage of electric counterbalance trucks, electric logistics vehicles and other new energy vehicles to achieve the target of green terminal distribution.
BYD is a world leader in the development and sales of new energy vehicles. For example, as well as being by far the world's largest supplier of pure electric buses, the accumulated sales of BYD new energy passenger cars from January 2015 to November 2015 has exceeded 50,000. This ranks BYD No.1 in the world and accounts for about an 11% share of the entire global new energy car market.