2015-10-19
Busworld 2015 - a milestone show for BYD with three premieres
As by far the world's largest maker of pure electric buses, BYD is underlining the strength of its offering by unveiling not one but three all new buses at Busworld 2015
– the world's first pure electric double decker, the biggest capacity electric bus that BYD ever built – a 150 passenger 18 metre articulated bus, and a new to Europe 8 metre midibus.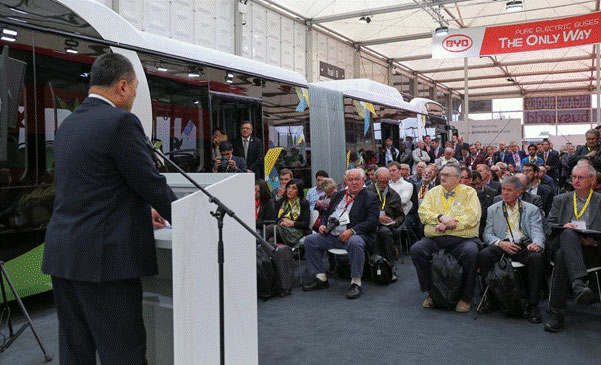 On stand No 951, BYD is showing its 10.2m double decker and 18m articulated bus, while the 8m midibus and 12m single decker can be seen in the demonstration area.

Designed especially for service in the world's 'double decker capital' – London, BYD's 10.2m double decker (making its World Premiere) is the bus some said could never be built: a pure electric double decker. BYD took up the challenge and delivered the bus in just two years – five go into service on a key Transport for London route straight after Busworld.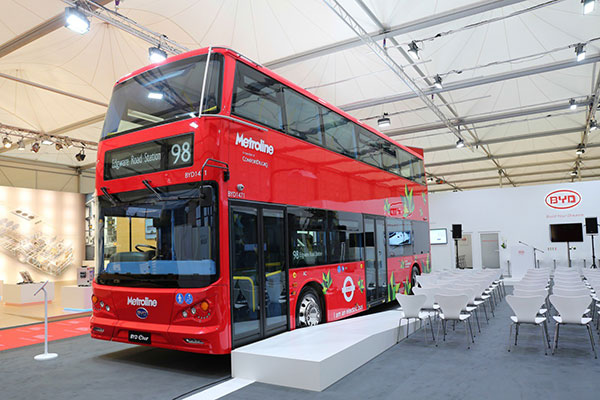 Also making its World Premiere is the BYD 18m articulated bus. With capacity for 150 passengers, this is the largest pure electric bus ever built and is configured for the many European cities where double deckers cannot operate. The Busworld vehicle is fitted with an optional overhead pantograph which allows recharging in just 1.5 hours from 0 to 100% when the bus is in the bus station or depot. The bus has a range on a single charge of 220km under UITP SORT conditions.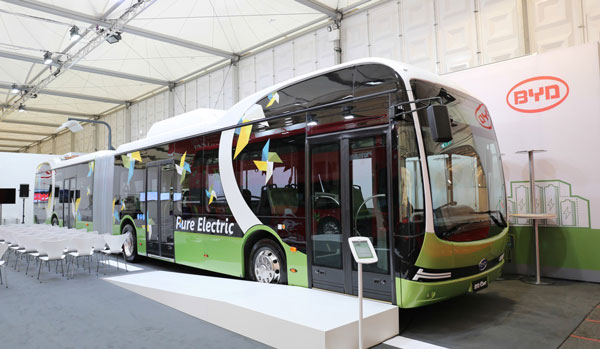 As well as the two high capacity buses on its stand, BYD is introducing another new pure electric bus to the European market - the BYD 8m midibus which has previously only been sold in China. This is the first time it has been seen in Europe. The show bus is to China market specification but a European version will be available shortly.

BYD's standard length 12m single decker has been trialled in almost 50 cities across Europe. The vehicle, which is available for test rides, is one of the fleet of 35 supplied to Amsterdam Schiphol airport where they transport passenger between the terminal buildings and their aircraft. The BYD 12m ebus picked up an 'Eco Label' from the European Coach Week jury immediately before Busworld.

Launching this dramatic widening of its ebus range (previously restricted to the 12 metre single decker model), Isbrand Ho, Managing Director of BYD Europe, said: "We can now offer operators an emissions free solution for every bus type meaning there can be no reason to further postpone going electric, not tomorrow but today. We have effectively eliminated range anxiety with our ever improving battery technology, we can offer innovative financing packages and we have enhanced our support team in Europe."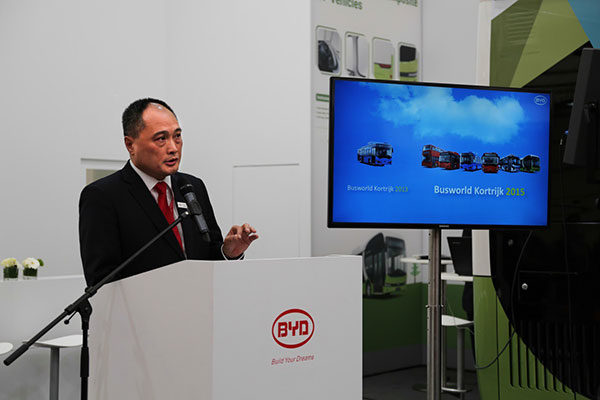 "Sales of our ebuses are now taking off – the latest contract for 51 for Transport for London with bodies by Alexander Dennis (ADL) is a milestone and follows the fleet of 35 ebuses now in service at Amsterdam Schiphol airport. With the much wider range of products we are unveiling today we can now meet every demand", said Mr Ho, who went on to hint at a further imminent development of the BYD-ADL relationship.
Commenting on the new bus, Leon Daniels, Transport for London's Managing Director for Surface Transport, said at Busworld today: "BYD is a big player in this market and has invested heavily in developing the battery technology and also battery management technology. BYD has excellent facilities which I have seen for myself for manufacturing and testing. BYD is a world leader and we hope its commitment will continue to grow and that we will see rising numbers of all-electric vehicles produced with longer ranges and lower unit costs. It is also exciting to see BYD work in partnership with Alexander Dennis who have a well-established reputation in London and Europe. So, this is an exciting time to be enhancing the fleet with rapid developments in battery technology and benefitting from BYD's research and development in this area."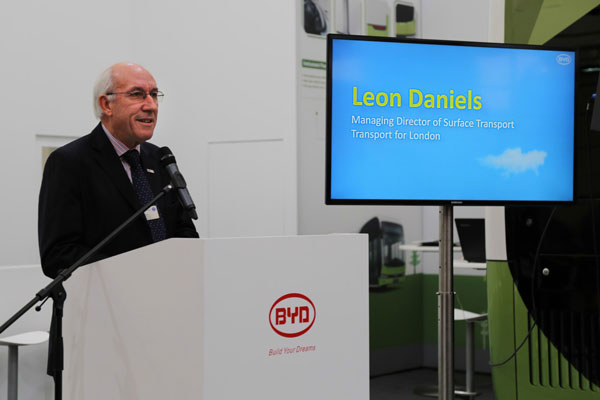 Mr Daniels pointed out that London's 9,000 strong bus fleet carries 6.5 million passengers a day, more than Paris and New York combined.