2015-09-29
BYD Joins Chinese First Lady and World Leaders to Reiterate Commitment to UN's Every Woman Ever
NEW YORK – Sep 28th, 2015 -- BYD's Chairman Chuanfu Wang shared the stage with Chinese First Lady and other four countries' authorities at the United Nation's "Every Women Every Child" (EVEC) summit held on September 26th at UN Headquarters in New York. The "Every Women Every Child" conference goal was to establish a global strategy to address rising needs for Women, Children and Adolescent's health care concerns worldwide. Chinese First Lady Peng Liyuan was invited to deliver a keynote speech. Many important authorities attended the conference to witness the commitment from BYD, including the President of the Republic of Malawi, H.E. Professor Arthur Peter Mutharika; the President of Kenya, H.E. Mr. Uhuru Kenyatta; the Prime Minister of Ethiopia, H.E. Mr. Hailemariam Desalegn; the Prime Minister of Norway, H.E. Ms. Erna Solberg, and minister-level leaders from Canada, United Kingdom and other countrie

As the only Chinese company to be invited to deliver a speech, BYD's role in global sustainable development is perfectly aligned with EWEC's mission. BYD pledged a long-term contribution not only with substantial funding through energy storage micro-grid solutions for health and educational facilities in areas most in need, but also with R&D resources, manpower and innovation.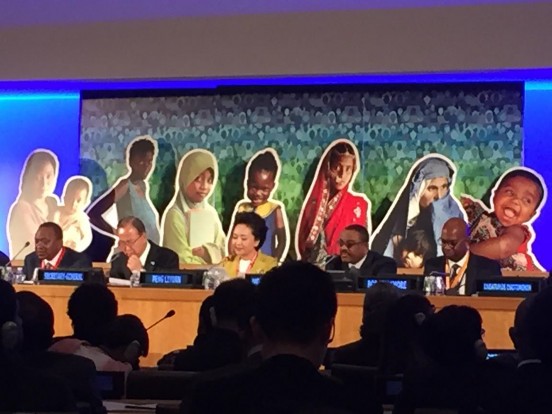 First Lady Peng Liyuan delivered a compelling speech in which she stressed the importance of improving women's and children's health and education to empower them to change their lives and ensure a better future. She has been very active in her commitment to UN humanitarian causes – attending 26 conferences and summits over the last 2 years – especially those on women's and children's health and education. Additionally, the United Nation Secretary-General Ban Ki-moon, and ministers from Canada and United Kingdom had delivered keynote speeches in the summit.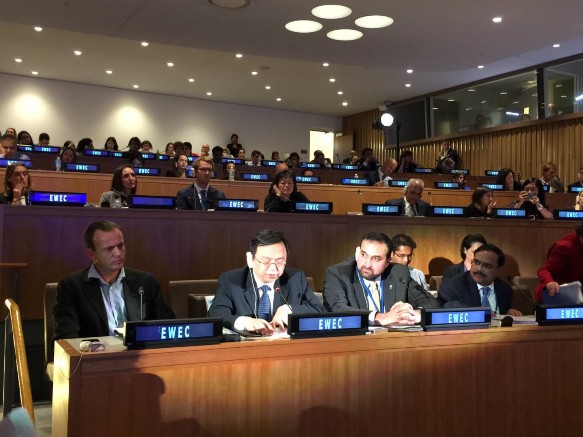 Earlier this year, BYD had already pledged its commitment to EWEC when company Senior Vice President, Ms. Stella Li, attended the EWEC High Level Retreat in May, and spoke about using BYD's technological advancements to create the concept of a "mobile hospital", in which the company would deploy Iron-Phosphate-Battery-powered buses and energy storage systems to power maternity hospitals and health care facilities in remote areas (to tackle the alarming death toll of women and children during childbirth, as well as providing essential healthcare chiefly in malaria and HIV treatment and prevention).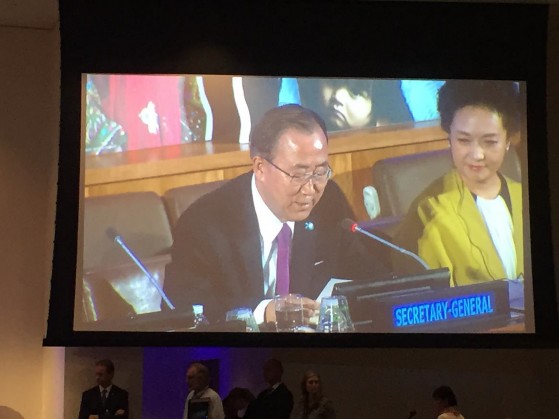 In this EWEC Summit, Chairman Chuanfu Wang reiterated his commitment to EWEC's noble cause. In his speech he stated:"BYD's commitment is to make huge investments to provide Solar and Battery Storage Micro-grid solutions to power Health Care Facilities and Schools over the next 10 years in China and other countries; striving to help women, children and adolescents survive and thrive. Charities need more than money, they need technology and innovation. As an industrial leader, we will provide free technical assistance to relevant organizations upon request; As the most innovative company in the green energy industry, we will invest in R&D to develop innovative products that are designed to meet the unique needs of health and education facilities across the world; As the world's largest battery manufacturer, we will provide substantial discounts in our products to make sustainable financing models that are feasible even in cases where resources are extremely limited; As a socially responsible company, we will donate products and provide services to health and education facilities in the most remote areas helping people most in need. We have already started to work with the Ethiopian and Kenyan governments to assess what can be done. We are confident that we will bring light and hope to every woman and every child, realizing their dreams. Just as our name "BYD" declares, we will Build Your Dreams!"

BYD's social responsibility and bold perspective on how the energy sector can contribute not only to women and children's health, but to humanity as a whole is not new. The company actively brought electricity to areas not typically covered by a power grid in 2010 in Tibet by donating and installing 1000 sets of home energy systems comprising solar generation and storage to a population that had never had access to electrification.

For on-site video, please click at