United Kingdom • 2015-07-06
BYD provides pure electric transportation for 20-20 Cities VIPs in London
BYD, the world?s largest maker of pure electric buses and taxis, was the perfect choice of transportation partner for the 20-20 Cities event held in London last week under chairmanship of London's Deputy Mayor Isabel Dedring.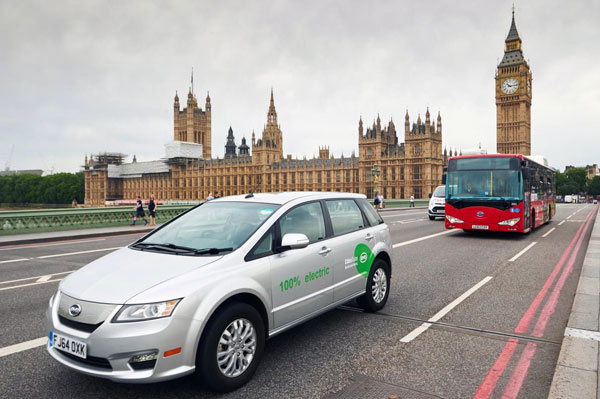 Pure electric taxis from the 50-strong fleet of Thriev, an advanced business offering its passengers 100% emission free transport, collected 20-20 VIPs from London airports and one of the pair of BYD 12m ebuses in service for over a year with Transport for London/Go-Ahead Group took delegates to the key event at City Hall.

The event was addressed by an eminent panel of speakers from global cities including BYD Europe MD Isbrand Ho.

Mr Ho posed a question to the audience, all representing cities of over a million people: "W hy has the electrification of the road passenger transport on our polluted city streets taken so long? Especially when the "e vehicles for urban mobility? are ready, not tomorrow but today".

He described the fleets of emissions free BYD buses and taxis now in service as "Real-world proven vehicles
which can operate flawlessly in all climatic conditions and in all urban geographies".
Mr Ho summarised some of the reasons why the switch to electrified road passenger transport has taken longer than anticipated.

He said that one of them was the worry that local diesel bus manufacturers may begin to lose jobs. BYD is prepared to open up bus manufacturing operations close to the markets, as it has already done in Brazil and California. "For the record we will open at least one plant here in Europe when the time is right. And, we also plan to instigate joint ventures with established manufacturers whereby we will supply them with our proven technology mating it with their body building capabilities", said Mr Ho.

He added: "Special interest groups, lobbyists and opposition parties are making sound and practical policy changes difficult. Replacing polluting vehicles with zero emission electric vehicles ought to be an ace political deliverable. In China, for instance, once there was a realisation that poor air quality has become increasingly severe and that imports of oil and oil consumption were spiralling, urgent action was taken. The result is apparent and breathtaking. BYD leads the world in battery technology, China leads the world in the electrification of public transportation", Mr Ho added.

Mr Ho concluded his address with these words: "With respect to climate change, we are all close neighbours, all participants, all residents of an increasingly smaller world. We are here to share our knowledge and experience for everyone?s benefit".