2014-12-16
Rotterdam plans to add 22 more BYD pure electric taxis
Rotterdam Taxi Company (RTC), which in 2013 became the first operator in Europe to put into service BYD's advanced pure electric taxi, the BYD e6, has this week indicated it is planning to add a further 22 taxis to its fleet.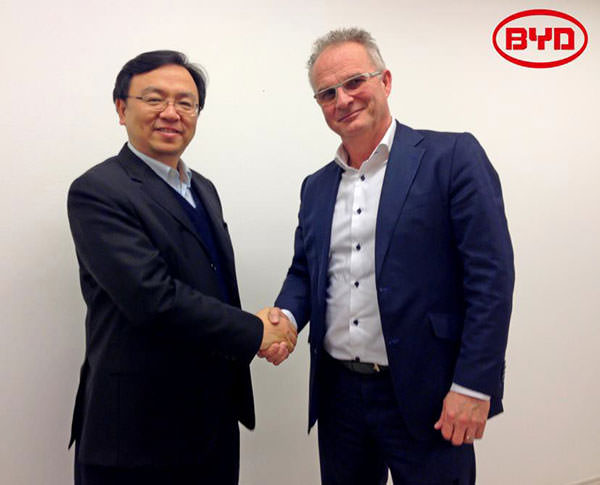 CEO Sjaak de Winter signed a Memorandum of Understanding to acquire the new fleet with BYD's
Chairman Wang Chuanfu at a ceremony at BYD Europe's HQ, which is located in Rotterdam.
Mr. De Winter said: "The experience with our first three BYD e6 taxis has been very positive – they are liked by our passengers and drivers and they have proved very economical to operate. We look forward to expanding our fleet of these environmentally friendly and cost effective vehicles".


Mr. Wang Chuanfu said: "We are delighted that major European cities such as Rotterdam are recognizing the role that BYD's battery technology can play in improving air quality in urban environments. Our e6 taxis – and our ebus range of pure electric city buses – rely on a proven and reliable battery technology, which delivers excellent range and real operating cost advantages to the operators. It's great to be able to co-operate further with our friends at RTC".


Fleets of BYD e6 taxis are in daily passenger carrying services in cities such as London (where a fleet of 32 e6s is expected to increase to 200 in the early months of next year), Brussels and Barcelona and further fleet sales are expected soon.
Work is now proceeding between BYD and RTC experts to conclude finance and leasing arrangements with a view to allowing the new fleet to be carrying passengers in Rotterdam during 2015.