2014-11-02
BYD celebrates successful "Brand New China" initiative
Troublefree Chinese car arrives in Rotterdam after three-month demonstration drive from Shanghai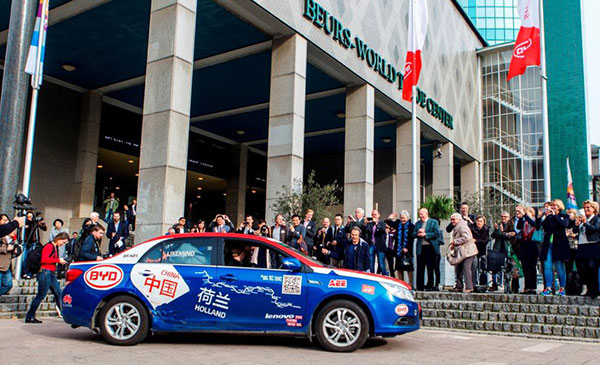 BYD, China's fastest growing car maker, is today celebrating the enormous success of 'Brand New China', an important initiative that has demonstrated to Western consumers the excellence of Chinese designed products. As a company with design and technology at the core of its culture BYD has been delighted to be its principal sponsor and to host a 'Welcome Home' party in Rotterdam today.

The brainchild of two young Dutchmen who have lived and worked in China for some years, Maren Striker and Rogier Bikker, 'Brand New China' involved a 20,000km epic drive trekking along the former Silk Road
through 11 countries using only Chinese brand products. The journey coincides with the celebration of the 35th year of the sister city relationship between Shanghai and Rotterdam, a fact marked by the presence at today's event of Rotterdam's Vice Mayor Mr. Maarten Struijvenberg.

Mr. Struijvenberg said: "We are delighted to welcome these two Dutch guys home. They built their dream thanks to BYD and the other sponsors. We have the strongest collection of Chinese investors in the Netherlands and it's no surprise. One Chinese executive told me-'it took us two years to feel at home in Hamburg and two weeks in Rotterdam!' "

For BYD and its potential customers across Europe, Brand New China was a test bed for our design strengths and quality. Welcoming home Maren and Rogier to their native Netherlands today, Isbrand Ho, BYD Auto Europe's Managing Director, commented: "I am personally delighted to see you both here, safe and well. Your success has demonstrated the quality and durability of BYD's products. The BYD Suri is one of the new generations of BYD vehicles which are beginning to transform our BYD into a company known for the excellence of its original design capabilities.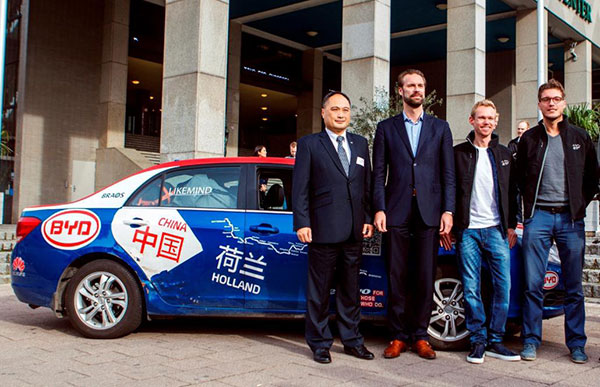 "Selling cars depends upon a host of factors – brand values and identity are key but there are many others. For example, service and reliability. This marathon trip which you have so successfully completed certainly demonstrates the reliability of BYD cars which we plan to launch soon in Europe alongside the industrial products – buses, taxis and fork lift trucks - which we are already selling".

The two Dutch drivers had plenty to say about the BYD car. Maren Striker: "While driving from one side of the world to the other, the most important thing is to be able to rely on material quality. And the F5 has proven exactly that. The 152 HP turbo injection engine provided us with enough power and performance to overtake any other car on the highway or when making our sudden (but necessary) maneuvers, not uncommon during this journey."

Rogier Bikker: "During the whole trip, the car performed extremely well. We never had a single technical issue, not even when we mistreated the car by going off road. It seems like nothing matters to the car, it just keeps on going. We are really impressed by the quality. It is like with all the equipment we brought from China: Every piece of kit delivered the quality we needed.

"After spending the past 3 months in our BYD, the car has truly become our home. Of course the performance of the car was essential in getting from Asia to Europe but on a day-to-day basis the remarkable quality of the entertainment system is what kept our spirits up. We spent our days behind the wheel listening to our own MP3's, and in the evenings we watched DVD's on the dashboard screen".
Maren and Rogier added: "Our objective was to drive from China to Holland using only Chinese brands. We can proudly say that we have succeeded. Other than a small car accident in Uzbekistan, the trip has been flawless. The car has never let us down. Not once did we stop for car trouble. To put it simply: we drove from the other side of the world without once having to open the bonnet (aside from some routine BYD check-ups along the way)".

In view of the remoteness of some sections of the route, which prevented the deployment of the advanced hybrid or fully electric cars BYD plans to bring to Europe soon, BYD supplied the Dutch duo with one of its gasoline fuelled cars, the F5 Suri, in which to complete the journey.

The BYD F5 Suri excelled with a five star performance rating in the all important C-NCAP crash test last year by the respected China Automotive Technology and Research Centre. The F5 Suri not only attained a new record score for a Chinese home-grown brand with 56.5 points in C-NCAP result, but also performed better than many international joint venture brands such as Ford's Kuga and Volkswagen's Santana.

But what was it like on the Silk Road? Rogier and Maren again: "Usually we achieved 1 litre of fuel per 12km (34mpg) but it really depended on the road conditions and temperature (and thus air con usage) when driving through 40+ degrees deserts. The best consumption we achieved was in Uzbekistan, where there is an extreme fuel shortage and only bad quality fuel (80 octane), so we had to be very conscious about our driving style. There we did 1 litre per 16 km (45.2mpg)".

In Chengdu (China), Urumqi (China), Almaty (Kazakhstan) and Tehran (Iran) the car was checked over by local BYD service centres. The mechanics always changed the oil as it was a brand new car and a regular change of oil was necessary. Besides that, no oil was added.

In addition to the BYD car, Maren and Rogier attracted support from Chinese makers who provided Huawei smart phones and Lenovo laptops as well as tents, sunglasses and even underwear to demonstrate the strength of Chinese branded and designed consumer products.