2014-10-16
BYD brings world leading pure electric taxi to Brussels
Pascal Smet, the Brussels Minister for mobility and public works, was present yesterday at the official launch of the first zero-emission and fully-electric taxis in Brussels, Belgium, centre of the European Union.
Thirty four BYD e6 taxis have been delivered by BYD Auto, the fastest growing car maker in China. The company's proposal won when the Brussels government asked for parties to operate fifty electric cabs. The use of these environmentally-friendly taxis is an important first step in bringing emission-free transport to Brussels's roads, replacing petrol and diesel powered taxis with electric ones.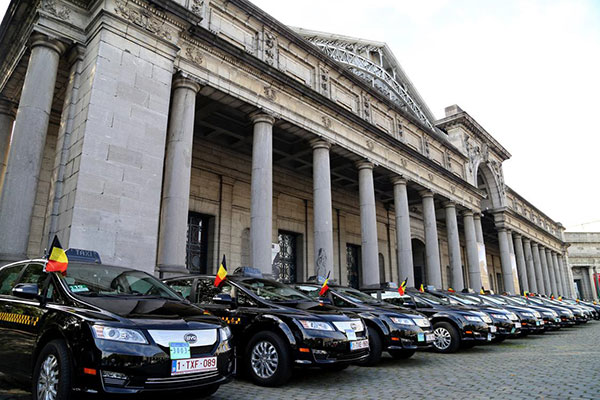 With hundreds of e6 vehicles in daily service as taxis around the world, BYD – already the world's largest
maker of rechargeable batteries – is underlining its role as the leading producer of pure electric vehicles.
A small number of e6 taxis have been in service with Rotterdam Taxi Company for more than one year, while a fleet of 20 has been working in London since early 2014. The latest batch of 34 BYD e6 taxis entered service in Brussels over the last few months, with the official inauguration on 15 October.
In China 850 BYD e6 taxis are in service in the city of Shenzhen, headquarters for BYD, with a further fleet of
45 operating in Hong Kong. Together these taxis have accumulated more than 200 millions of kilometres of trouble free, revenue earning passenger carrying service.
The BYD e6 is a spacious, five-passenger, crossover vehicle powered by the BYD Iron-Phosphate (or Fe) batteries. It has a very long battery life with the highest safety level in the industry. It takes only two hours to fully charge the e6 using the fast AC charging solution developed by BYD. This pure EV can then travel for an unprecedented range up to 300km, providing both the driver and passengers with an excellent driving
experience and zero emissions/zero pollution.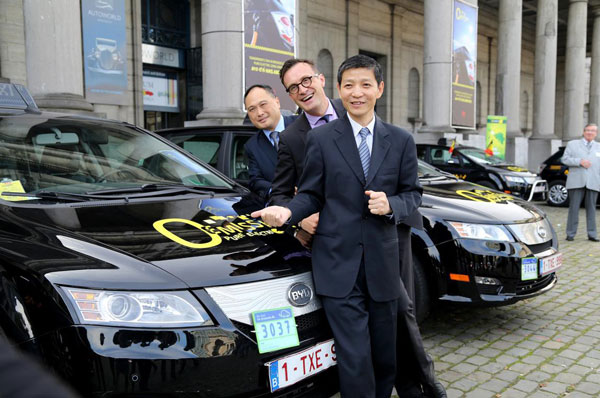 The availability of charging facilities is critical to EV customers. In conjunction with the introduction of BYD pure electric taxi fleets the company can supply advanced and high speed charging facilities to support them.

Pure electric vehicles are becoming a major trend in the world, especially in densely populated cities where it is a pressing imperative that this mode of public transportation becomes cleaner. The launch of the e6 taxi underscores BYD's commitment to its "three green dreams" strategy in new energy comprising of: solar energy generation made relevant by environmentally-friendly energy storage, and responsibly using this green energy in electric vehicles. The BYD e6 is a key piece in the BYD vision Zero-Emissions-Eco-System, with this zero emission transport BYD is helping to bring an increasingly eco-conscious public closer to their goal of true sustainability.

As well as with its pure electric taxis, BYD is rolling out the introduction of a range of ebuses in a large number of major global cities – more than 36 in Europe have already trialled the BYD ebus.

Speaking at the Brussels event, Minister Smet said: "We are delighted to have assisted in bringing these zero emission BYD vehicles to our taxi fleet. They will help contribute to our efforts reduce air pollution in our city and of course to demonstrate to our citizens the value of electric vehicles".

Ambassador Liao said: "New energy vehicles are increasingly becoming the number one trend in the automotive industry. China also pays great attention to the development of this industry, actively participating in energy saving. This fleet of 34 BYD E6 taxi vehicles symbolizes the leadership of China's new energy vehicles, improving Brussels' development of electric public transport".

Isbrand Ho, BYD Auto Europe's Managing Director, said: "We are delighted that Brussels, Capital of Europe, has become the latest city to put our e6 emission free taxi into service. The proven and reliable e6 deliver taxi drivers and operators with not only a total green transport solution but also one which offers significant operational cost savings in view of the very low cost of electricity when compared to diesel fuel. Taxi passengers also enjoy a quiet and comfortable ride".