2014-09-11
BYD named as LowCVP Low Carbon Champion
BYD, the world's largest maker of rechargeable batteries which is bringing a range of zero and low emission vehicles to Europe, has been named as a UK LowCVP Low Carbon Champion.
At a gala dinner last night BYD Europe was the winner of the 'Low Carbon Heavy Duty Vehicle of the Year Award'. The judging panel comprised 22 senior executives from across a range of organisations with a stake in the low carbon road transport agenda. They said that BYD's pure electric ebuses – now in trial service in London as well as major cities across Europe and the world - have demonstrated impressive carbon savings through their innovative electric powertrain systems and, moreover, provide a compelling business case with
high market growth potential.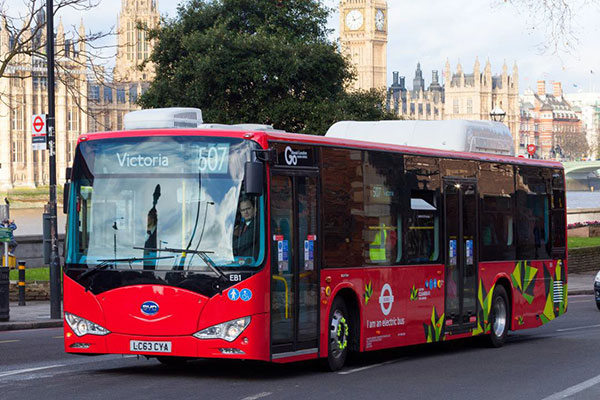 More than 25 entries were submitted for Awards and in the Heavy Duty category BYD beat off competition from Iveco and Wrightbus. Talking about the BYD ebus, the judges said: "Backed by a wealth of international experience, BYD Europe's vehicles demonstrate a real business case for their adoption and market growth potential. The very high reliability of the new powertrain system has been demonstrated providing a flexible approach to electric charging".
Isbrand Ho, Managing Director BYD Europe who received the Award, said: "We are very honoured to receive this prestigious Award. We have invested heavily in demonstrating our technology to bus operators in more than 36 cities across Europe and passengers in London today are travelling on our buses. We believe our reliable and proven technology has much to offer both environmentally and in dramatically reducing operating costs. We are delighted that our efforts have been recognised here".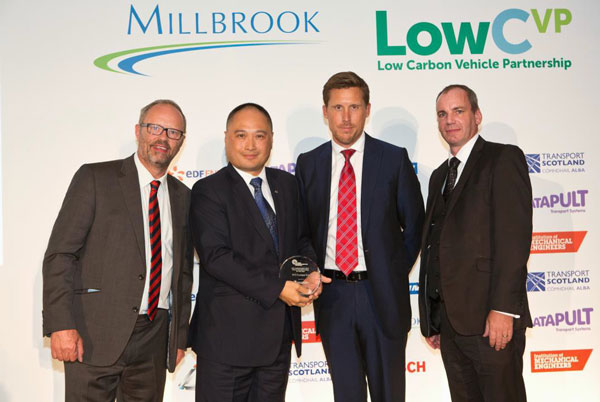 The performance of the BYD ebus has been proven in extensive operational experience in China where in the southern city of Shenzhen 780 ebuses have been in service since January 2011, covering in total more than 33.7 million km of challenging passenger-carrying service. Challenging means carrying up to 120 passengers during rush hours with full air-conditioning in use.
While the BYD ebus delivers zero emission public transport it also offers bus operators tremendous operating cost savings. The energy consumption is around 130kWh/100km in urban conditions. The ebus battery takes 4 to 5 hours to recharge from totally exhausted at a cost for the buses in London of only £19.44 (using off peak electricity – the buses are recharged at night). This represents a saving of up to 75% of fuel cost compared to a diesel bus.

The BYD Fe battery is designed to have a life of more than 10,000 cycles – a "cycle" means from fully charged to fully discharged and back to full charge meaning our battery life is expected to exceed 15 years under normal operating conditions after which time the battery capacity can still reach 70%.

The BYD's family ebus covers 12M single deck buses, like the ones operating in Europe, and will shortly be augmented of 8m and 18m (articulated) versions plus an innovative double decker bus. BYD has created its Green City Solution, which aims to electrify urban public transportation systems by transitioning from diesel powered buses and taxis to pure electric ones. Besides electric vehicles, BYD also provides charging facilities, charging station monitoring systems and after-sales service, all in a one-stop-shop solution.
In the coming two years BYD will also be introducing to European consumers a range of high performance, low or zero emission hybrid and pure electric passenger cars.