2014-09-01
From Shanghai to Almaty: 8,000 testing km and 35 days and BYD's car proves up to the challenge
After 8,000 km and 35 days the BYD F5 Suri saloon car has proved itself up to the challenge posed by two Dutch guys who are driving from Shanghai to Rotterdam. Their 'Brand New China' initiative is seeking to demonstrate that Chinese brands are fully capable of competing in the West and today arrived in Almaty, the largest city of fast developing Kazakhstan.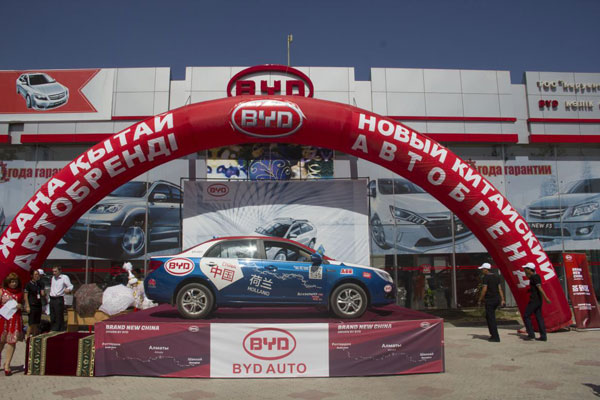 BYD is delighted to be the principal sponsor of 'Brand New China' since the company has design and technology at the core of its culture. The brainchild of two young Dutchmen, Rogier Bikker and Maren Striker, who have lived and worked in China for several years, 'Brand New China' involves a 20,000km drive along the former Silk Road through 11 countries using just Chinese brands and products. The journey coincides with the celebration of the 35th year of the sister city relationship between Shanghai and Rotterdam.
Welcoming the team in Almaty today, BYD Europe Managing Director Isbrand Ho said: "I said farewell to Rogier and Maren via a video message 35 days ago. I am delighted to be here in person in Almaty to wish them well on the remainder of their adventure. I'll be proud to welcome them to their Dutch homeland by the end of October when I'll be joined by the Mayor of Rotterdam at a special ceremony.
"The BYD F5 Suri car which features on this epic 20,000km drive is a good demonstration of BYD's design culture. It has not only created a new record scoring 5 star results in the Chinese NCAP crash test, better than many cars made by international brands such as Ford's Kuga and Volkswagen's Santana.
"We are very pleased that Rogier and Maren have brought together other famous Chinese brands on board our BYD car for the trip but are delighted that it is the car which will feature most strongly in the TV and other media coverage of their progress".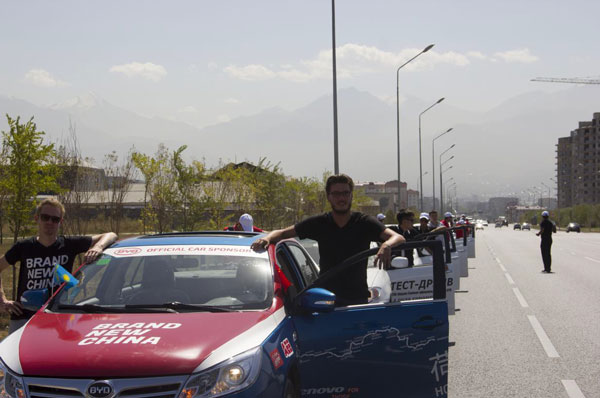 Mr Ho said that BYD planned to increase its sales substantially in the dynamic and growing Kazakhstan market. "Selling cars depends upon a host of factors – brand values and identity are key but there are many others. For example,service and reliability. The marathon trip our two Dutch friends are undertaking certainly demonstrates the reliability of BYD cars. A few moments ago they were telling me that they have experienced no problems with the car despite some incredibly challenging road conditions on the way from China", he said.
In view of the remoteness of some sections of the route, which prevents the deployment of the advanced hybrid or fully electric cars it plans to bring to Europe soon, BYD supplied the Dutch pair with the F5, one of its gasoline fuelled cars.
For regular updates on the progress of 'Brand New China' see: www.brandnewchina.net; https://www.facebook.com/bydeurope