2014-04-27
BYD at Busworld Turkey: full range of ebuses unveiled
Fast growing pure electric vehicle maker BYD is unveiling details of its planned full range of ebuses at Busworld Turkey which opens in Istanbul today.
Its stand No 2-B04 has illustrations, videos and full details of the range.

The lineup will include 8.5, 12 and 18 metre single deckers (the latter being an articulated bus) as well as the world's first pure electric double deckers. A 12 metre bus is available for test rides in the external demonstration area.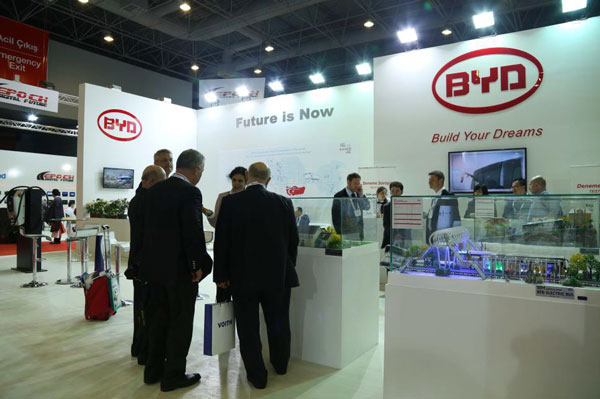 The first model in the lineup is the 12 metre ebus – which has been trialed in nearly 50 cities worldwide with outstanding results. It's available in two or three door format and in left or right hand drive layout. This version of the ebus family offers up to 33 seats, and 9 square metres of standing space as well as one wheelchair bay.A 12 metre ebus is currently under trial in Turkey's capital Ankara, just the latest major world city to try the ebus. These trials have demonstrated that BYD's ebus can not only deliver zero emissions public transport but meet most duty cycles on a single charge, allowing recharging (in only five hours for a fully depleted battery) to be completed overnight using economic off peak electricity. This means huge – up to 75% - operational cost savings, with many operators who have tried the bus forecasting a break even period of around four years. This makes up for the higher initial purchase price when compared to a conventional diesel bus. Indeed, some trials have shown that over a 15 year life the ebus would effectively be free when compared to the diesel
equivalent, due to the huge reduction in fuel cost.
The heart of the ebus, common to all models, is BYD's advanced Fe battery (lithium-iron phosphate), providing outstanding driving range – more than 250km in typical urban driving conditions – with total safety and security. The Fe battery is also extremely well proven. BYD is the world's largest maker of rechargeable batteries. The company is at the leading edge of extending the technology by enlarging energy storage capacity, forecast to be at10% annual increments.

The BYD Fe batteries in the 12 metre ebus are in three packs with a total capacity of 600Ah, delivering
324kWh of power, meaning 130kWh per 100km. With a 60kW power source they can be fully charged in just five hours. Battery life is likely to exceed that of the bus at more than 4,000 cycles – or more than 11 years of regular in-service duties.
The ebus comes with an advanced Battery Management System and a regenerative braking system. During deceleration and braking this system puts power back into the batteries thus extending driving range. In hilly environments (the ebus can handle 15% grades) this makes a significant contribution to overall range."We are looking forward to welcoming a wide range of visitors to Busworld Turkey and to our stand", says Isbrand Ho, BYD Auto Europe's MD. "They will understand from our display the serious approaches we are taking to global bus markets as we exploit our market leading battery technology and bus designs. W e are looking forward to building on our current strong client contacts both in Turkey and the wider industry", he said.