2013-12-18
BYD ebuses enter service in London
Two pure electric BYD ebuses were handed over to Transport for London yesterday in a ceremony involving the Mayor of London's Environment spokesman, operator Go-Ahead and BYD.
The buses will operate on two central London routes, number 507 and 521, the first in the UK capital to be serviced by fully electric, emissions free buses.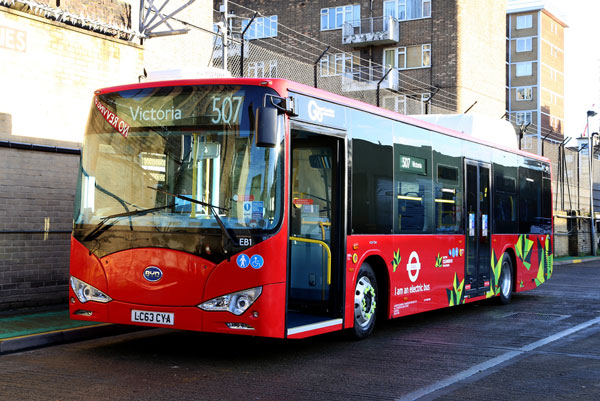 The 12 metre BYD ebus has already been tested worldwide in major global cities, including in Europe: Paris, Bremen, Bonn, Madrid, Barcelona, Salzburg, Warsaw, Amsterdam, Brussels and Budapest. These trials have demonstrated that the range of the BYD ebus comfortably exceeds 250 kilometres on a single charge in real world urban conditions.


This performance has also been proven in extensive operational experience in China where in the southern city of Shenzhen 220 ebuses have been in service since January 2011, covering in total more than 13 million miles of challenging passenger-carrying service by the end of October 2013. Challenging means carrying up to 120 passengers during rush hours with full air-conditioning in use.

While the BYD ebus delivers zero emissions public transport it also offers bus operators tremendous operating cost savings. The energy consumption is around 130kWh/100km in urban conditions. The ebus battery takes 4 to 5 hours to recharge from totally exhausted at a cost of in the UK of only
£19.44 (using off peak electricity – the buses will be recharged at night). This represents a saving of
up to 75% of fuel cost compared to a diesel bus.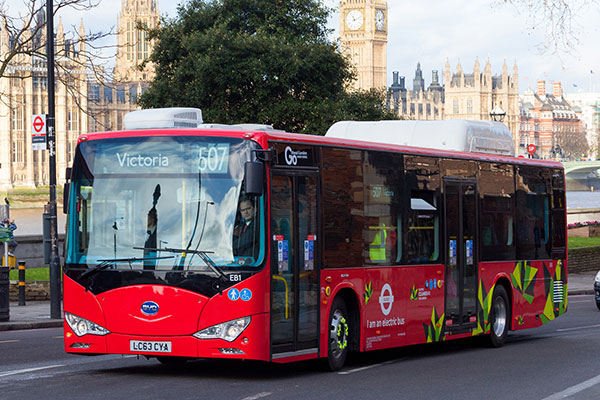 The BYD Fe battery is designed for a life of more than 4,000 cycles – a cycle means from fully charged to discharged and back to charged. That means the battery life can exceed 10 years under normal operating conditions.

BYD, one of the world's largest makers of rechargeable batteries, employs 170,000 people, turned over £5 billion in 2012, is the fastest growing auto maker in China and is 10% owned by a subsidiary of Warren Buffett's Berkeley Hathaway Corporation


The company entered the automotive market only in 2003 yet has delivered over 2.5 million vehicles in the 10 years since then and has a range of EV products for the European market which already includes buses, taxis and fork lift trucks. Consumer cars – petrol, hybrid and fully electric - are not far behind.

BYD has created its Green City Solution, which aims to electrify urban public transportation systems by transitioning from gasoline and diesel powered buses and taxis to pure electric ones. Besides electric vehicles, BYD also provides related services such as charging facilities, charging station monitoring systems and after-sales service, all as a one-stop-shop solution

The Dutch island of Schiermonnikoog has converted its entire bus fleet to pure electric BYD ebuses
and a fleet of 35 units has been ordered for Amsterdam's Schiphol Airport.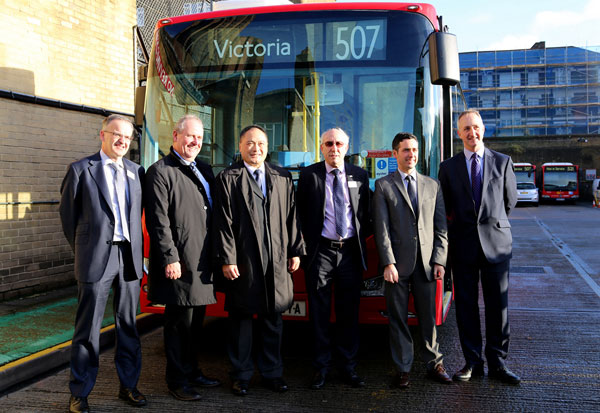 Matthew Pencharz, Senior Environment and Political Advisor to the Mayor of London, said: "The Mayor has made it a top priority to further reduce the environmental impact of London's bus fleet. Alternative technologies, such as these electric buses, will bring genuine long term benefits in tackling CO2 and PM emissions. The arrival of these pure electric buses compliments a whole range of measures the Mayor is supporting, including hybrid and hydrogen technology, which is already delivering improvements to air quality."

Mike Weston, TfL's Director of Buses, said: "We will be closely monitoring the performance of these vehicles while they are being trialled here in London. Should the performance and reliability of these buses meet London's challenging requirements, this could be a very important step towards adopting this new clean technology in the capital."

Isbrand Ho, Managing Director of BYD Europe, said: "We are convinced that widespread adoption of
the BYD ebus could have a dramatic effect on lowering pollution levels in major cities so this development in London, one of the world's top cities, is of tremendous importance. We look forward to a long and positive relationship with Transport for London and Go-Ahead and to further deliveries of our market leading products in London and other UK Cities".