2013-10-20
Busworld announcement sets course for European growth strategy
Fast growing Chinese auto maker BYD is planning a European bus assembly facility following the strongly positive results of a European-wide trials programme of its full size, pure electric ebus single-decker.
"We need to have around 100 sales in Europe to justify a plant and we believe that day is really near
now", says BYD Europe's Managing Director Isbrand Ho.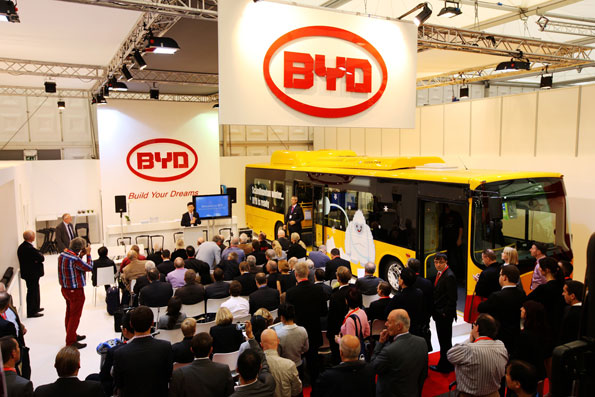 Speaking on the opening day of Busworld in Kortrijk, Belgium, Mr Ho added: "From Tel Aviv to Helsinki we have completed or have planned trials of our ebus in real passenger carrying service. The results of these trials have been universally positive with operators proving that our range claims of 250km in urban conditions are conservative and realising tremendous energy savings – benefitting both the environment and their operating cost budgets".
Mr Ho said that no decision had been made on the location of the assembly facility and that a number of countries were being considered where access to market and local skills would be attractive.
In Europe the BYD ebus has already been trailled in Paris, Bremen, Bonn, Madrid, Barcelona, Salzburg, Warsaw, Amsterdam, Brussels and Budapest with London about to begin. The Dutch island of Schiermonnikoog has converted its entire bus fleet to pure electric BYD ebuses and a fleet of 35 units has been ordered for Amsterdam's Schiphol Airport.
The energy consumption of the 12 metre BYD ebus is around 130kWh/100km in urban conditions. It saves up to 80% of fuel cost compared to a diesel bus. This has been proven in extensive operational experience in China where in the southern city of Shenzhen 200 ebuses have been in service since Jan 2011, covering in total 20 million kilometres of passenger-carrying service by the end of September 2013.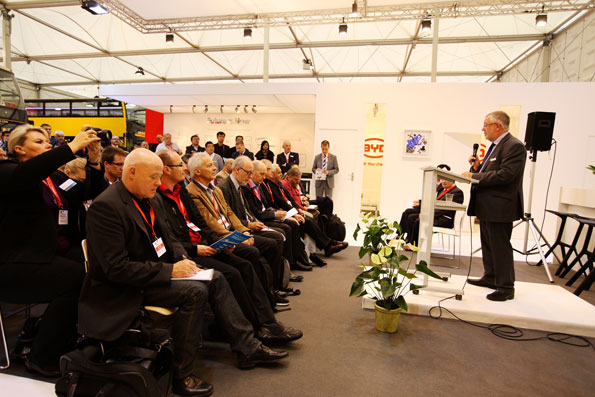 The heart of the BYD ebus is its safe and reliable Fe battery (lithium iron phosphate) technology. As
the world's largest maker of rechargeable batteries, BYD is expert in the design and build of
advanced batteries and the Fe gives outstanding power, range and service life from packs which are environmentally friendly both to make and dispose of.

At Busworld 2013 two versions of its advanced 12 metre ebus are on show – one inside on its stand number 848 and one outside in the dynamic demonstration area.

The two show models represent a significant step since they are thought to be the first electric buses designed especially for the challenging climatic conditions found in the Nordic countries. The inside display model is destined for trials in Copenhagen, Denmark, while the outside vehicle will be entering service in Helsinki, Finland after Busworld finishes. Both vehicles have special features to combat the low winter temperatures including double glazing, auxiliary heating systems and so on.

The Continent-wide trials programme is a precursor to an extensive sales drive by BYD which is now competing for a series of public tenders. The emissions free BYD ebus is 12m metres long – the same size as normal buses operating on city streets.
In the first quarter of 2013 the BYD ebus obtained full European certification. This allowed the company to start promoting and selling ebuses in the European market.