2013-09-26
BYD ebus selected for best transportation solution in the Top 10 Sustainable Innovations for 2013
International institute Sustainia has launched its top-10 list of best sustainable innovations for 2013 that will compete for the prestigious Sustainia Award later this year. BYD ebus has been selected as a 2013 finalist and was presented to business leaders from around the world at the UN business conference Leaders Summit in New York on September 19th. The 10 companies and projects have
been selected for their potential to drive sustainable change in their communities and industries, and were chosen from among more than 1,000 projects submitted from 79 countries.
BYD
The ebus built by BYD is the first pure-electric bus in the world to be powered by an Iron-Phosphate battery. Hundreds of BYD ebuses are now in passenger carrying operations - by far the largest number of electric buses from any brand. The current BYD ebus measures 12 meters long and is designed with customer transport comfort in mind. The technically advanced and specially designed wheel-hub motor and its electronically controlled air suspension can offer customers a product with an exceptionally low floor, multiple door choices and ample floor space for easy passenger access.
The imposing windscreen occupies two thirds of the frontal area of the bus for maximum viewing as well as safety. The bus body conveys an elegant exterior image, while the interior boasts an air of quality with adjustable driver's seat, durable seats for passengers and carefully engineered sound insulation keeping the interior ride whisper quiet.
BYD's pure electric bus employs many advanced technologies developed in-house by BYD's strong R&D team which includes 15,000 engineers. For example, the Iron-Phosphate battery or "Fe Battery" used on the BYD ebus is safe and non-polluting: the materials contained in the battery can be recycled or safely disposed of.
Orders have been won so far in China, the Netherlands, Finland, Denmark, Uruguay, Canada and the United States. The BYD electric bus has also been successfully tested in many cities in Europe including Madrid, Barcelona, Budapest, Salzburg, etc. The accumulated mileage of the 220 electric buses operating in the city of Shenzhen (China) alone was nearly 20 million kilometers (or 12.4 million miles) by the end of August 2013.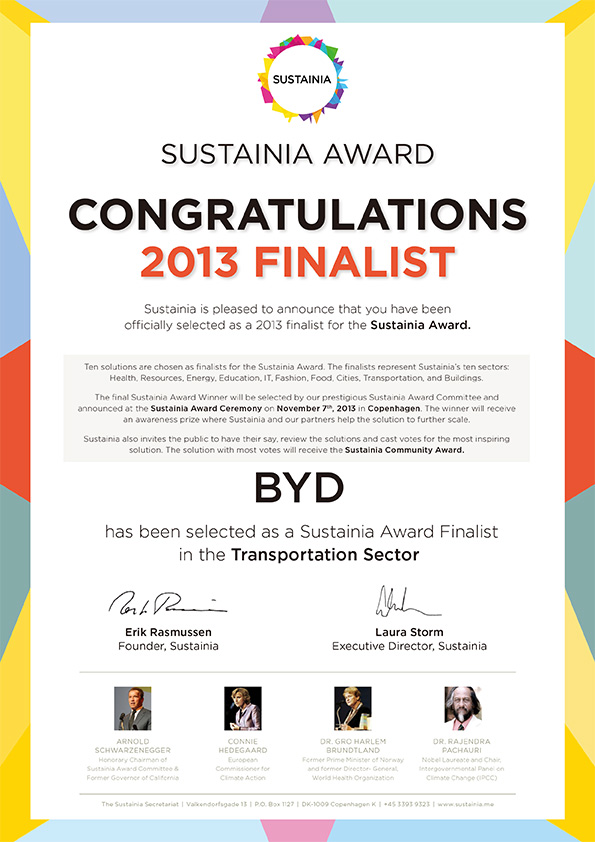 Public votes will determine Sustainia Award
The Sustainia top-10 list of sustainable innovations are competing for this year's Sustainia Award which chaired by former governor of California, Arnold Schwarzenegger. Joined by Chair of IPCC Dr. Rajendra K. Pachauri, former Prime Minister Gro Harlem Brundtland, and EU Commissioner Connie Hedegaard, Mr. Schwarzenegger will select the final winner of this international sustainability award to be presented at a major ceremony in Copenhagen, November 7th 2013.
"The Top-10 Sustainia projects reflect innovative approaches that can lead to more sustainable industries. Hopefully, they will inspire more businesses to take green practicing to heart. It is not an easy choice to select one, but I'm looking
forward to presenting a Sustainia Award winner in
Copenhagen," says Dr. Rajendra Pachauri, chair of
UN's panel on Climate Change (IPCC).
Members of the public can help the BYD ebus get closer to an award by voting for in the Sustainia Community Award, which is decided entirely on the public votes. Learn more on the nominees and place votes at (http://a.pgtb.me/wB41M4).