BYD offers the latest corporate information via RSS web feeds. Registering these addresses with your feed reader or RSS compatible browser allows you to automatically receive the latest news from us as it is updated, without having to visit this website.


Subscribe our RSS
Mon, 06 May 2019
Nobina increases BYD eBus orders to 138
Nobina, Sweden's and the Nordic region's largest bus operator, has added a further 20 eBuses to its growing intake of orders from world-leading electric bus manufacturer, BYD. Deliveries of the 18.0-metre articulated 'K11' eBus model will commence at the end of 2019.

Two separate deliveries of this latest BYD eBus order will be made, with four vehicles destined for the Barkarby district of Stockholm, and 16 for the city of Linköping.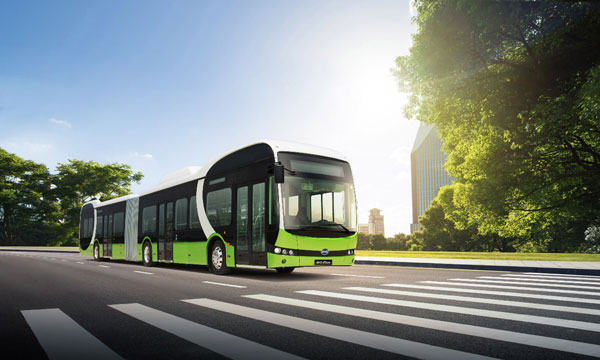 BYD 18M Pure Electric Articulated Bus



The latest electric bus order follows Nobina's order for 26 BYD vehicles last autumn, comprising 11-off 12.0-metre eBuses, ten 18.0-metre articulated eBuses and five 8.7m midi-buses – all scheduled for delivery this summer. A total of 138 vehicles will see Nobina as BYD's largest bus fleet customer in the Nordic region.

36 BYD eBuses are running successfully in several Swedish cities including Eskilstuna, Ängelholm and Norrtälje and Landskrona – with around 70 further BYD eBuses scheduled for delivery in Norway and Denmark. Recent sales successes reaffirm the electric bus manufacturer's growing presence in Europe, including orders in Netherlands, France and Italy. Over 700 BYD eBuses are now in operation or on order throughout Europe.

36 BYD eBuses are running successfully in several Swedish cities including Eskilstuna, Ängelholm and Norrtälje and Landskrona – with around 70 further BYD eBuses scheduled for delivery in Norway and Denmark. Recent sales successes reaffirm the electric bus manufacturer's growing presence in Europe, including orders in Netherlands, France and Italy. Over 700 BYD eBuses are now in operation or on order throughout Europe.

"This is a significant addition to an already substantial investment in our eBus products from Nobina," said Isbrand Ho, Managing Director, BYD Europe, "the electric bus market in Sweden and, indeed, throughout the Nordic countries, is growing rapidly and BYD remains well placed to supply the right products for a wide range of operations."

The drive towards emission-free transport is an essential objective for Nobina. Nobina's latest emission-free BYD eBuses are powered by new generation, cobalt-free, BYD Iron-Phosphate batteries offering high levels of performance, operational safety and are produced to rigorous environmental standards.

"Nobina is stengthening the position as the leading operator of electric bus solutions and sustainable public transport services in the Nordics," said Martin Atterhall, Fleet Manager, Nobina Group. "Where the technical e-mobility concept by BYD has proven to fit perfectly well into the high demands among customers and PTAs in the Nordics regarding flexibility, total transport economy, quality and reliability."