BYD offers the latest corporate information via RSS web feeds. Registering these addresses with your feed reader or RSS compatible browser allows you to automatically receive the latest news from us as it is updated, without having to visit this website.


Subscribe our RSS
Thu, 07 Mar 2019
BYD secures second airport order in Europe: ebuses in service in Brussels
BYD has secured an order for 30 of its 12m ebuses from Brussels Airport Company (BAC), operator of Zaventem Airport which serves the capital city of Europe. Last week saw the start of the service of the first ebuses.

BYD entered a 10-year service support contract to ensure the ebuses deliver reliable and consistent service in their role of transferring arriving and departing passengers between aircraft and the terminal buildings.

The 30 pure electric buses have a length of 12m, 3 doors and are equipped with state of the art design offering free Wi-Fi on board, USB ports for charging and digital displays with the latest flight information.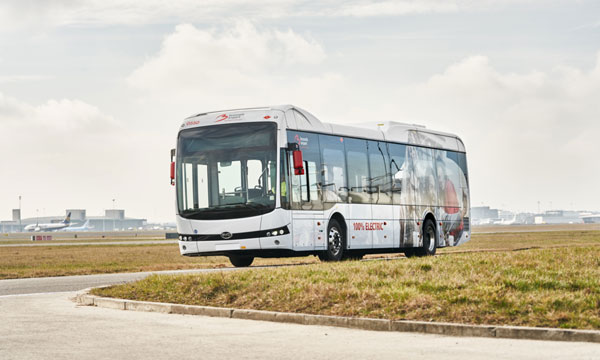 The BYD 12m ebus for Brussels Airport Company


BYD supplied 30 of its own-designed charging units to enable the ebuses to be charged overnight in the terminal. They are similar to the special charging depot in Amsterdam Schiphol Airport, where BYD has had a fleet of 35 of its ebuses running since June 2015. At the time, the BYD 12m buses were the first pure electric buses to provide transportation airside at a major world airport.

Elsewhere in the world, BYD has ebuses running in airports in Sydney, Australia, Kansas and Los Angeles, the US, and Shenzhen, China.

Earlier this year the buses for Brussels were tested and drivers received training to enable them to become familiar with operating electric buses.

Arnaud Feist, CEO of Brussels Airport Company: "The electric bus project fits in with Brussels Airport's ambition to drive down its carbon dioxide emissions by 40% by 2030 (compared to 2010). For each equipment purchase decision, we seek out ecological solutions which at the same time offer increased comfort for our passengers. In addition to the fact that the new e-buses are silent and do not emit particulate matter or carbon dioxide, they also provide state-of art connectivity with free Wi-Fi and USB ports. With the arrival of these new buses, we are further improving our passenger service."

Isbrand Ho, Managing Director at BYD Europe: "Airport operators all over the world face immense pressure to reduce their carbon footprints. Within current technology little can be done about the emissions from the aircraft but now a serious impact can be made on the noxious outputs from ground service vehicles. In Europe, we have proved it in Schiphol and we believe that the experience there, and here in Zaventem, is a signpost for other major airports in Europe and further afield. BYD was chosen after a competitive European tender process. We are truly delighted to have succeeded in Brussels, de facto capital of the European Union. BYD is without doubt the global leader in full size pure electric bus design, production and sales with over 50,000 ebuses having been produced. We are looking forward to serving more and more international passengers with our environmental friendly vehicles."