BYD offers the latest corporate information via RSS web feeds. Registering these addresses with your feed reader or RSS compatible browser allows you to automatically receive the latest news from us as it is updated, without having to visit this website.


Subscribe our RSS
Tue, 08 Jan 2019
BYD ADL partnership delivers 9 electrics to Stagecoach in Guildford
The UK's leading supplier of electric buses, the BYD ADL partnership, took a significant step forward today with the delivery of nine 10.8m pure electric buses together with charging equipment to Stagecoach South for use on park and ride services in Guildford.

The delivery underlines the steady growth in the BYD ADL partnership's reach as it begins the penetration of provincial fleets outside London. The buses for Guildford are to the BYD ADL provincial spec, recently previewed at Euro Bus Expo. With a single door and 36 seats the vehicles deliver outstanding comfort and appeal for passengers.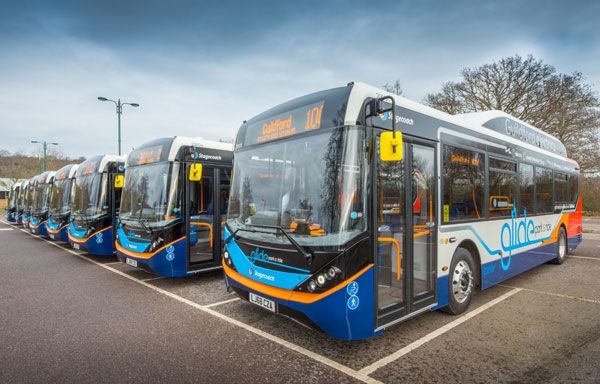 Importantly, these are the first buses supplied by the partnership to Stagecoach Group which, with 8,000 buses and coaches, is one of the largest public transport operators in the UK. Stagecoach is at the forefront of public transport innovation and BYD and ADL hope that this is just the first project the organizations can work on together.

In Guildford the nine electric buses will connect three car parks and a leisure centre with the town centre, operating six days a week, with service frequencies of between 10 and 15 minutes. Guildford is an important and historic large town south of London with a major university and which is popular with commuters to the capital. This is the first fleet of pure electric buses to enter service there.

Arthur Whiteside, ADL's Managing Director for UK Sales, said: "We are delighted to support Stagecoach South and Surrey County Council in their introduction of clean, zero emission buses. With passenger-centric interiors and excellent onboard amenities, they will further enhance the attractiveness of Guildford as a destination and place of employment in the regional economy."

Speaking at the launch event in Guildford today, BYD's UK Country Manager, Frank Thorpe, said: "The entry into service of these vehicles means that our joint enterprise has now supplied advanced electric buses to the majority of the major bus operating groups in the UK and, as with all of our customers, we have been able to provide much more than the bus. Our knowhow has assisted in the provision of the necessary infrastructure, including BYD built chargers. "