BYD offers the latest corporate information via RSS web feeds. Registering these addresses with your feed reader or RSS compatible browser allows you to automatically receive the latest news from us as it is updated, without having to visit this website.


Subscribe our RSS
Wed, 11 Apr 2018
BYD is named one of the most important Chinese investors in the Netherlands, witnessed by NL Prime M
BYD has been named one of the five most important Chinese investors (from Southern China) that have positive economic influence in the Netherlands. The award ceremony took place at the Sino-Dutch Trade Dinner, hosted by His Excellency Prime Minister of the Kingdom of the Netherlands, Mark Rutte, today in Guangzhou, China, marking the 40 years anniversary of the Netherlands Foreign Investment Agency (NFIA). The Trade Dinner is part of the Dutch cabinet's Trade Mission to China from 8 to 13 April, led by the Prime Minister.


Isbrand Ho, MD at BYD Europe (fourth from the right), receives the "Invest in Holland" Certificate at the Trade Dinner in Guangzhou, witnessed by the Prime Minister of the Netherlands, Mark Rutte (second from the right)



NFIA Commissioner Jeroen Nijland presented the award, as an appreciation, to Isbrand Ho, Managing Director at BYD Europe, which was witnessed by high level Dutch ministers, including the Ambassador of the Kingdom of the Netherlands to the People's Republic of China, Ed Kronenburg, and around 500 delegates from the Netherlands and China. BYD is the only automotive company to be honoured by the NFIA.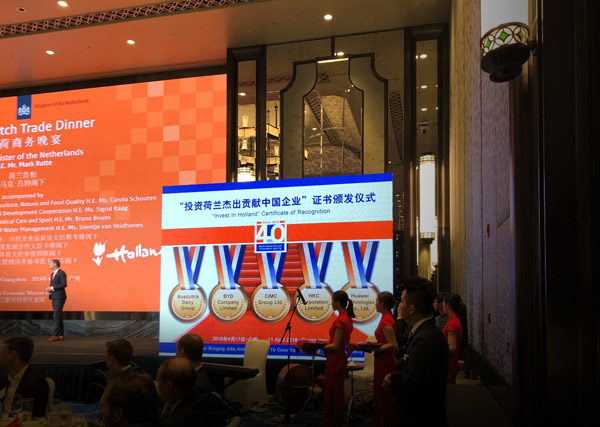 BYD is the only Chinese automotive company to be awarded the "Invest in Holland" certificate



BYD, founded in 1995, established its European head office in December 1998 in Rotterdam. BYD chose the Netherlands and in particular Rotterdam because of its location as it has one of the world's largest ports. Moreover, BYD was warmly welcomed by Rotterdam Partners and the NFIA, introducing BYD to the market and opening doors.

Starting off as a battery supplier with only a few employees now 20 years later it has expanded into a fast growing business with more than 60 employees, representing solar, energy storage and electric vehicles. In addition to the successful partnership with UK bus builder ADL, BYD now has two bus production facilities in Hungary and France. In Breda, the Netherlands, BYD expanded its presence last year with a European central warehouse for its spare parts.

Speaking at the Trade Dinner, Isbrand Ho, Managing Director at BYD Europe said: "At the end of this year we will be celebrating our 20 years anniversary in the Netherlands. We have achieved many remarkable milestones in those years. For example, in 2013 we won the very first European pure electric bus tender for the Frisian island Schiermonnikoog and since 2015 we have 35 pure electric buses running on the platforms in Amsterdam Schiphol Airport. This order was thought to be the first for full size pure electric buses to provide transportation at a major world airport. We feel that the Dutch are very open to new technology and are very much aware of the environment. This award motivates us to continue what we are good at: making a major contribution to improving air quality."